Brace yourselves for a total of 90 photos taken at an event!!!
Well, there are a few looking alike ones coz its taken by different cameras.
I won't be typing lots of grandmother stories and let the photos do the talking.
BTWs, for those who don't know, SJ Nite or Senior Junior Nite is an annual event when the 2nd years would organize a party to break the ice between the 1st year juniors and the third year seniors. LAst year, I was in charge of doing the games for the event. But don't know why I didn't blog about it and the photos of the event got vanished with the rest of my photos in my old laptop. T___T
Anyways, there was a whole lot story behind the SJ Nite this year but I lazy wanna tell la. Later if got time, I'll put it in.
Before doing our makeups we decided to take a photo of "Before" to see how much we changed after dolling up. :D
Apalah Esther Niak...take photo also can take photos!!!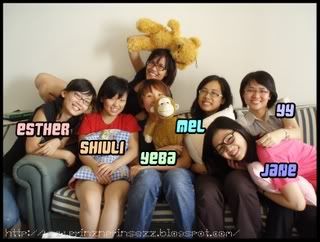 In case you forgotten our names

Why la I look so cute in all the photos?? Hehehehehe~ Tak malu betul.
BTWs, did you guys realize that Jane had on a very weird/funny glasses? ITs Li Shan's. And she wore it to uni that day. So Jane took to kid with it.
Actually I did too...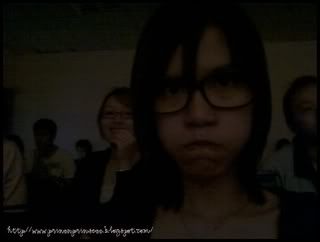 Sorry for the bad quality coz it was taken by my camera phone which is 1.3mp only.
Ooops~~~ terambil gambar Eevon who sat behind me.
Us doing our "thang":
Fringe is my biggest concern coz its always out of place

Niakie doing her "Song-hye-kyo-in-Full-House" inspired hairstyle

I suggested the hairstyle. Damn proud of myself. Hehe~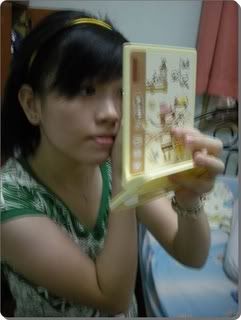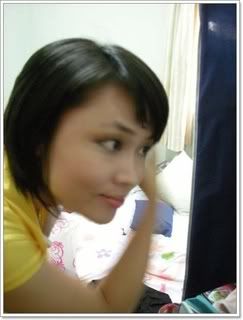 Applying makeup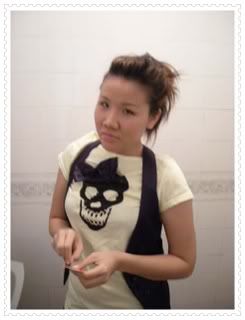 Wanna whack people is it?

We were out of mirrors coz there was six girls all together. So some had to get ready in the toilet. Hehe~
While the girls got ready, the only man in the house had nothing to do but to...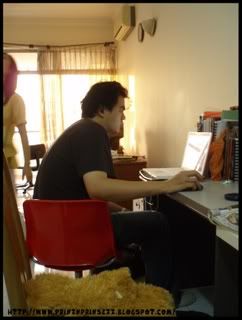 Waahahahahahaahah~

After a couple of hours, we finally finished dolling up. Would you believe it if I told you that we all started dolling up at 4.30pm and ended at around 7pm? Damn long right? But what to do? Its worth the wait. Hahahahahaah~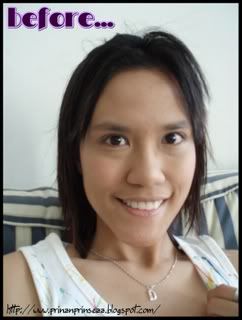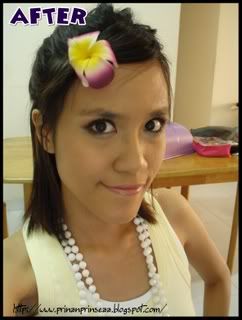 I love doing comparison like this coz it shows the power of cosmetics. But then again the"before" photo was taken after I had applied foundation so the difference was not obvious. Hehe~
Don't bother the flower clip on my fringe. It was to keep my fringe in place while I do makeup. Takkan I wanna go out of the house with the big flower on my head right? DAmn lala~~~ HEhe~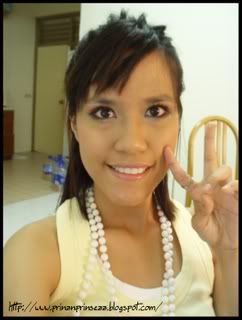 Yes, I'm self-obssesed

The rest of the girls after dolling up: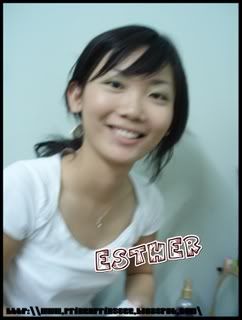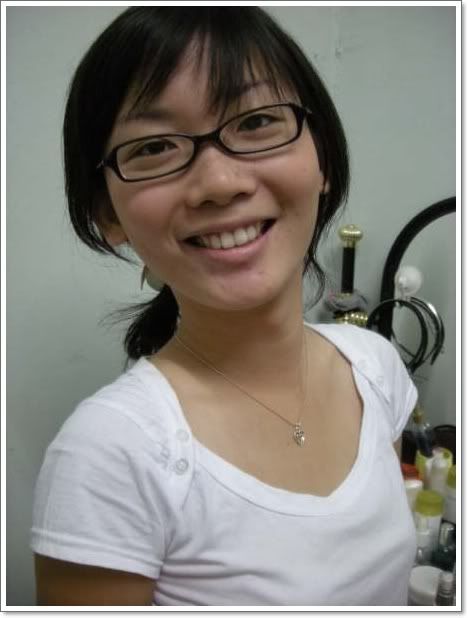 Eh~~~ why suddenly the photo so big geh? I thought I resize joh...
Anyways, which do you think Esther looked better in? With specs or no specs? Hmmmm~ actually I think she looks better with specs. Don't know why.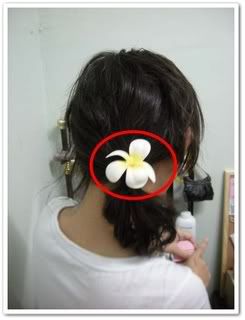 Nice not the flower? I also have the exactly same one but in blue.
Nice not the hairstyle? Got look like Song Hye Kyo in Full House or not????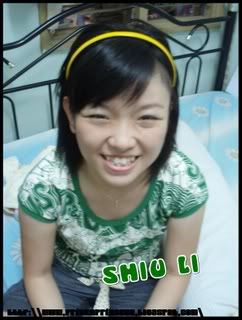 Cute lil Shiu Li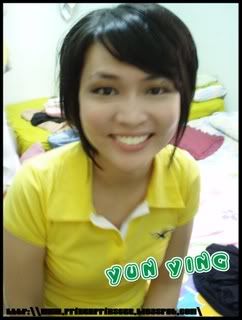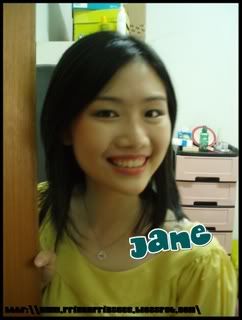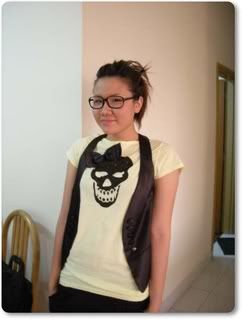 Li Shan's sense of dressing had been damn stylish time after time. She looks damn cool right in this style *jealous*
Pretty Melisa

Being L again...hehehehe~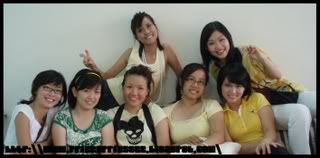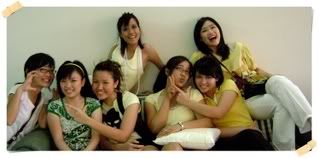 All of us after getting ready

No legs in the photos coz Mel said not nice. HEhe~
Reaching RU (rumah universiti)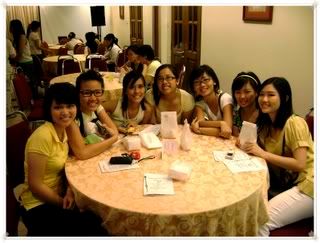 If you guys didn't realized it, most of us wore yellow. Coz the theme of the night was yellow jello. I mean for the 3rd years lah...
I bought yellow tank top and yellow bead necklace just for the night. Coz I have no yellow clothes. It was the same tank top from FOS which I worn last year but in yellow. Last year's theme was pink so I bought pink. Now i have the same tank top in 3 colours: white, pink and yellow. HEhe~ And my bead necklace collection is adding up day by day. I can start opening a stall to sell these things man.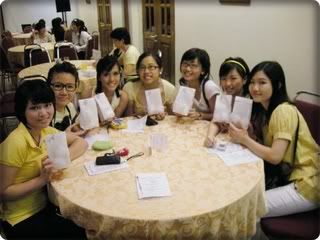 Our door gifts

Which costs RM1.50 only. Will reveal what it is later.
The joy of being third years is that all we do is sit around and do nothing. Whee~~~~ HAhahaahhah~

Candid shots while waiting for the dinner to start:
Why Jane so happy and the other two looked so gloomy?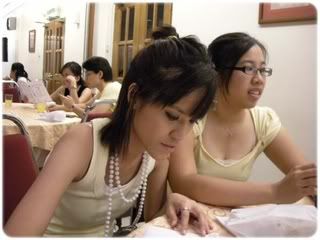 Me preparing my reprensentative speech to say to the juniors.
Cewah~~~ so geng like that. Hahahaah~
The speech was also an annual thing done by the second years during ice breaking session. But since they didn't do it. We decided to do it and I was the reprensentative.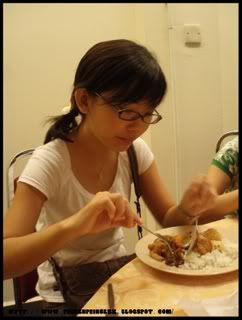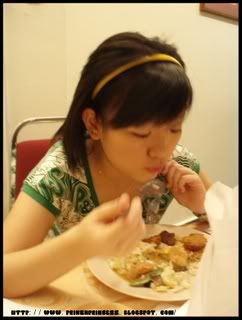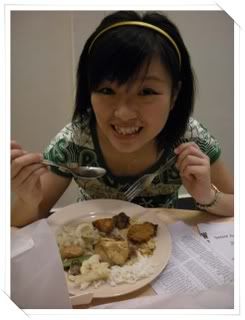 She's forever so cute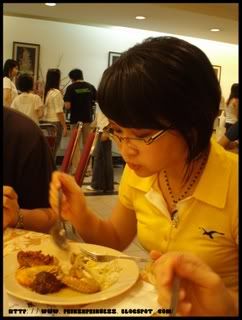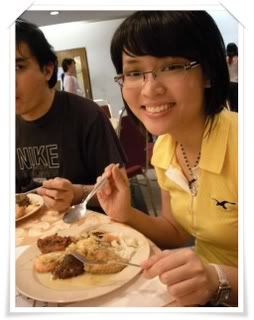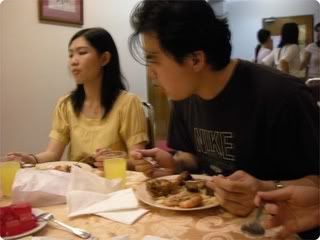 The happy couple
For those who don't know these two, Jane is my room mate and Jinhin, her boyfriend, just got back from America for a break. So these two are inseparateable. Jinhim basically became our photographer for the night. The photos of the SJ nite you guys are viewing are all taken by him. *Danke Jin Hin*

Tak payah makan ker? Asyik sms jer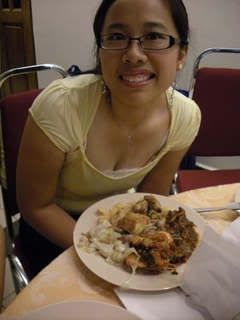 Hehe~ With food at last
I thought nobody took my photo but Li Shan did.

This was totally candid. I had no intention to act as L at the moment.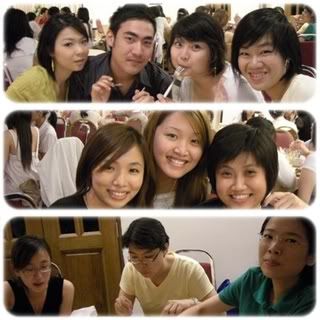 The rest of the people who were there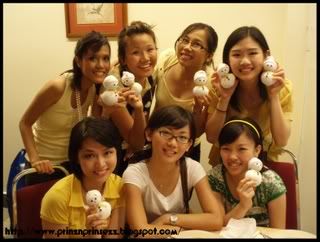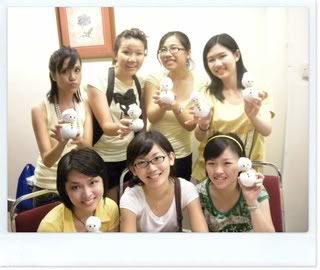 With our door gifts
Its actually a snowman. And I heard it was handmade by the second year juniors. Well, I must say it was quite a creative work done by them. Erm~~~ probably the only thing that they did that was good.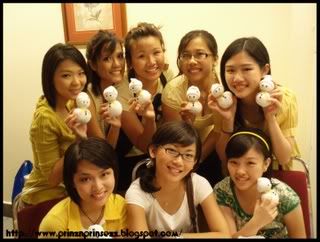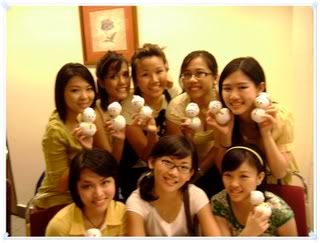 The Zhi Muis with Kai Sien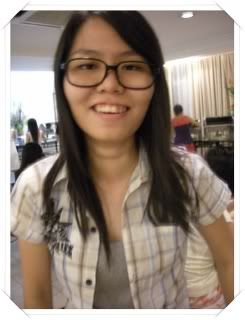 MEt up with Jing Xuan who turned up as a Super Senior. She's one of the seniors that I miss dearly. *
hugs*
Even she got caught up with the vibe to play with Li Shan's goofy specs.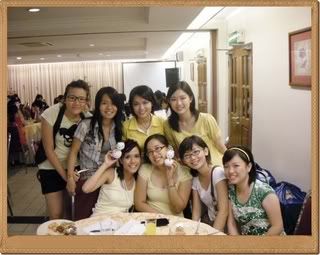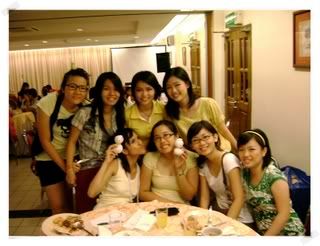 The Zhi Muis with Jing Xuan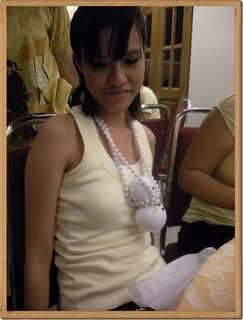 I got bored after eating and started playing with the door gift. I hung the snowman on my necklace. Hehe~~~~
Poor little snowman like kena stranggled.
Li Shan, this is not the
Partyqueen
pose... Its MY "rock on" pose. wtf.
Apparently I'm not the only one with weird poses...Look at this...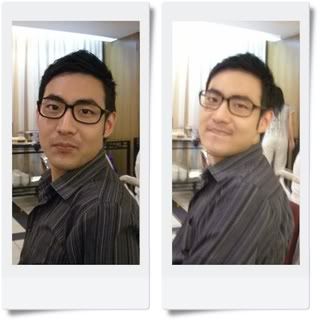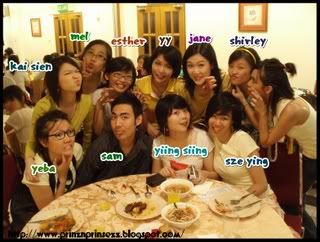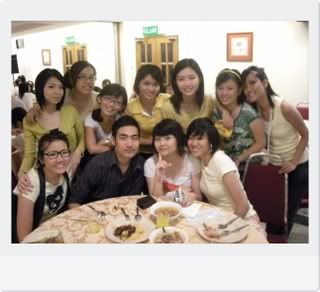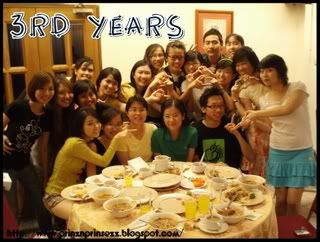 The 3rd years who turned up to SJ nite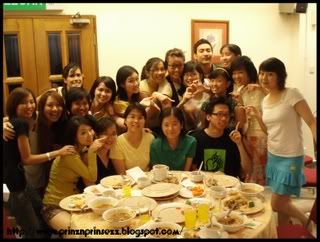 They were all pointing at Mun Fei and Boon Hui coz there had been an on-going rumour about the two of them. Hehehehehehe~ Three years edy lor...
Everyone was called to do cute pose but why I looked so spastic??? Look at Munfei (
circled in red
). DAmn cute... HAhahahah~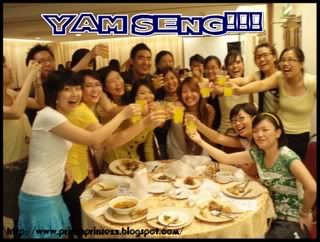 WE some how got really high and started screaming "Yam seng". Like wedding dinner pulak we all. Hahahahah~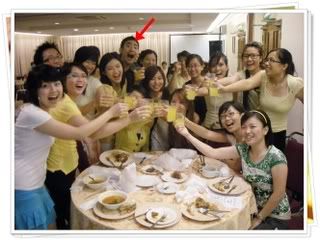 Look at Samuel (
pointed with arrow
). Super excited his face. Hahahahahahaha~ Cannot tahan
Then we took photos with the second years. But no all of them la coz not really kenal them.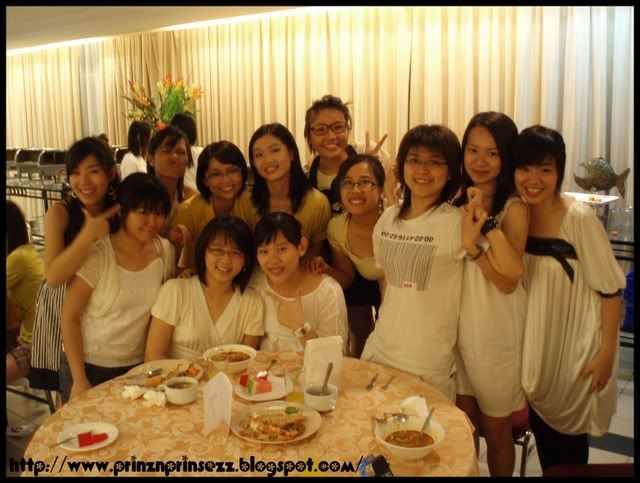 Is it me or is that two juniors having a uncommon relationship???? WHy are they holding hands until like that? The last person I knew taking photos together like that are my friends with their bfs/gfs and Sinren and I.
*shivers*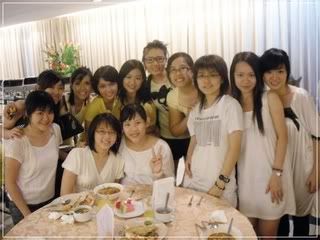 A more normal photo of them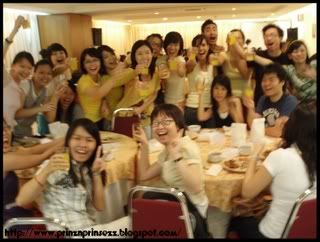 More yamseng shots
This time its with our super seniors.
Look at Samuel again. Hahahhahahahah~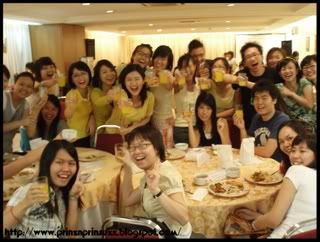 This time look at Jane. So excited. Like taking some Carlsberg's ad nie. ahahhaahhahahhhaha~
Everybody looks so happy.
Mr U-Jin was the only lecturer who came. We grabbed him over and asked him to take photos with us.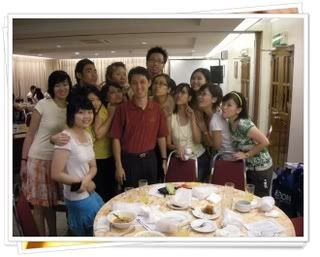 After eating, it was games session. We wanted to leave d but aiyah~~~~ stay for awhile to see how their games suck first.
WE end up having fun of our own taking photos.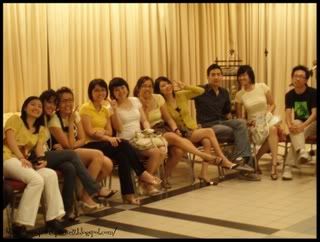 Those who were left for the games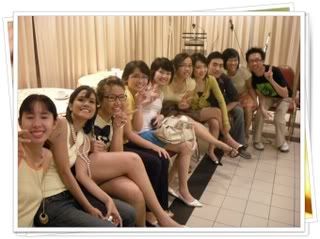 Erm... why tak bukak mata Mei Sann?
The first game (
actually the only game
) was extremely stupid, lame and pointless. So we took photos.
Tsk tsk... the second years really can't be compared to us la. Our games was so interesting last year. Everyone was laughing like gila. This year there was nothing to be laughing about. Now I know why they gave us the snowman. To show us how "cold" they are. As in the "leng" in chinese.
My camera died after that shot. So the rest of the photos are all Li Shan's coz Jin HIn's cam died long ago.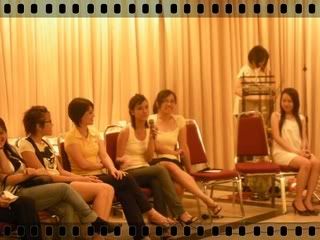 So proud of myself. Why didn't I represent the school or any clubs to be the spokesperson before this? Wasted. I could talk so well in public. (
tak malu betul...
) Should have studied PR instead of music. Then I can compete with Puff and Buvie for work. HAhahaahaha~
Wah~~~ got people clap for me during the speech. I must be giving very good speech. DAmn proud la...
That brings to the end of our SJ nite and its was photo session. It was also an tradition to take photos together. 1st, each year take year photos then all together. But then 3rd years didn't take any year photos. Coz only a few of us was left. Seriously like less than 10. DAmn sad.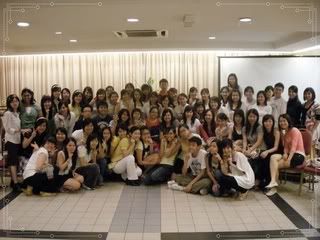 Wah... I so cute... Hahahahaha~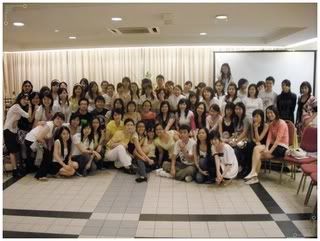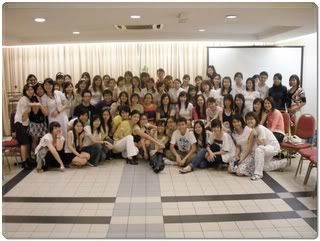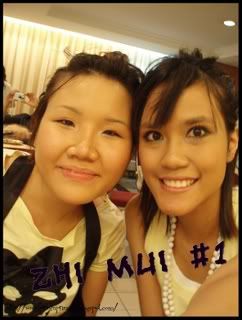 Didn't take photos with other zhi muis coz the rest of them left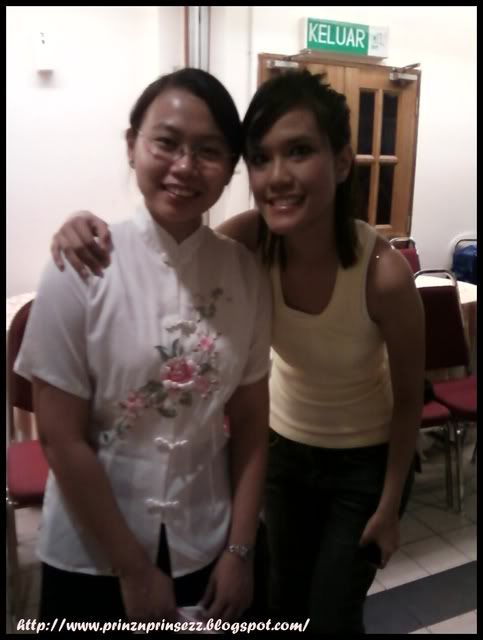 This is this year's Miss Pusat. She told me her name but it kept slipping my mind. So sorry.
This girl won coz she's sporting and very nice. Difficult to find a girl like that nowadays.
I grabbed the chance to take photos with the super seniors coz it might be the last chance to see them ever again.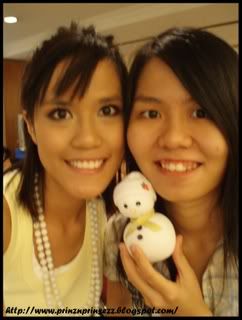 What is she trying to do?
Like a bit hamsap nie...
Very sweet looking right?
And so damn pretty and fair. Thanks to the lighting I don't look that dark beside her. :D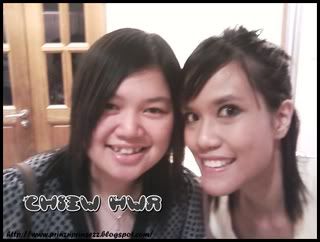 Our former dai ka jie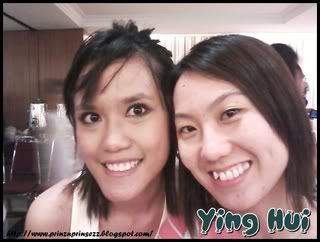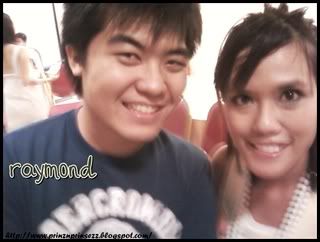 The only man among the ladies of super senior
Haha~ He reminds me of Shinchan. Don't know why. HAhahahahaha~
Random photos of Boon Hui and Munfei
Haha~
After everyone left we went out of the hall and took more photos...
which looked non-aesthetic.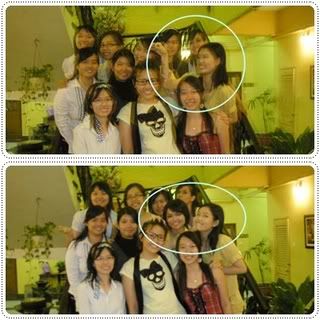 Took photos with the first year but thanks to Jane who spoiled a normal photo to something looking damn goofy.
This was supposed to be a "hey ya" pose but it seemed like bollywood to me. Wahahahahah~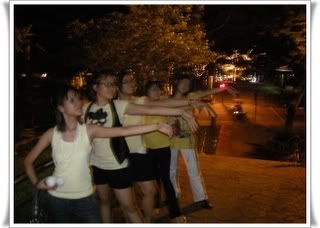 Why I looked so serious arh?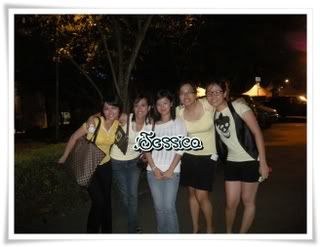 Before going into our car we bumped into Jessica and took a photo with her
After that we decided to go clubbing at Scarlett. Woots!!!! First time clubbing with KL friends. Damn exciting.
Before clubbing, we decided to have some Baskin Robbins ice cream coz it was the 31st. Which means 31% off the ice cream. Yay!!! It was all great. Hahahahahah~
While waiting for Mel to get the ice cream
The shop was packed with ice cream/cheap stuff fanatics. So to make it less crowded, some of us waited outside.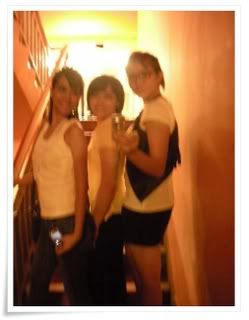 Our fave place to camwhore at The Street
But too bad the photo came out blur. :(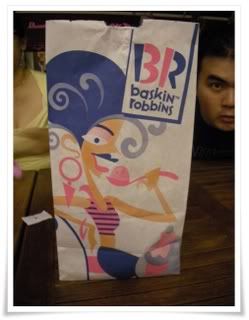 Haha~ Can you see Jin Hin posing in the background? Hahahahah~ DAmn hilarious.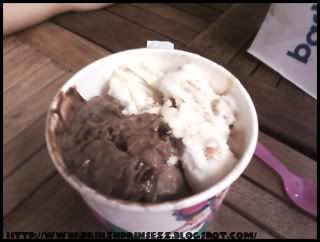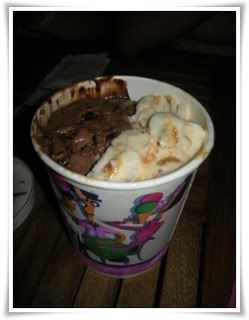 I forgot the flavours but both was damn good. And the chocolate one is like heavenly. Got brownies summore.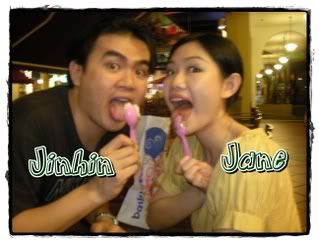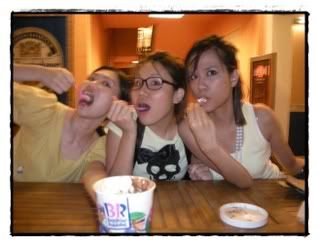 Happy makan ice cream moment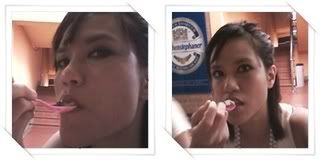 Scarlett was extremely awesome but we only take very few photos coz all the cameras died. The songs at Scarlett was damn nice too. Just that its too loud.
I know some might think...
"What stupid thing is she talking about?".
What i mean is its really too loud. Its not like the normal loud you know. Its as though the sound system is not that good type of loud.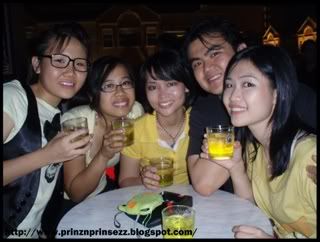 All of us had Vodka 'cept for Li Shan who ordered Gin. I think our vodka tasted better than the gin. Bad choice Li Shan...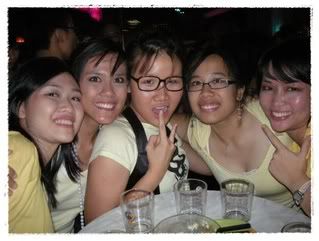 See li shan also did the "rock on" pose what... Say me summore lah..
wahlau damn long the post man. Took three days to finish everything. First upload the photos. Then put on this post then write about it. DAmn tiring.
For the moment, I'm physically and mentally tired. I just wanna lie down on bed and sleep whole day. But then proposal presentation is coming. T____T Not ready yet. DAmn scared now.
Sorry if I seemed like I was talking crap on MSN and chat with no sense coz my mind is stirred up. I know I irritated some people. So so sorry.
Mum will be coming during the weekends. Yay!!!!
K lah. wanna go bathe d. Tata~~~~