Back since Tuesday and its nothing but boredom. Zzzz~ Not much of going out so not much photos. But there are a few la. Taken with the samsung so a bit not so nice.
On Tuesday before coming back to Melaka I went to Midvalley for awhile. Like less than an hour i think. Su Pheen dear's birthday is coming so gotta go get her a gift.
As usual, a trip to FOS was a must. Haha~
HAven't been doing it since study break starts.
Don't mind my bad skin. Haven't been sleeping well that's why its looks like shit.
I know 50% of my clothes are from FOS but I just can't get enough of it.
This time I tried their sleeping gowns which looked so cute. I wanna buy them all.
This looks more like a LBD than a sleeping gown right? DAmn nice. If I bought it, I would have use it as a dress than a sleeping gown. Not that anyone would appreciate if I wore so nice to sleep also. Hehe~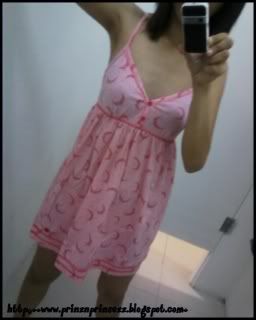 This one is a bit too childish looking la. Plus pink is not my thing. I mean for clothings la... I only use pink colour stuff but not wear them.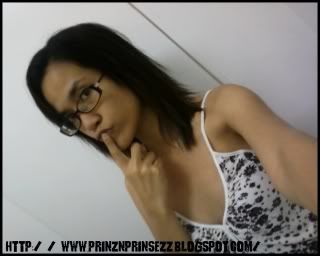 I accidentally deleted this dress in full's photo. So only this is left. Hehe~ But its the same style as the black one but with those little flowers. Damn nice also.
So what do you guys think? Should I buy the sleeping gown and convert it into a dress?
I think I said about this but I will repeat it as a reason why I wanna get the sleeping gown/dress. I have dresses but most of it are suitable for dinners and special events. I need dresses for casual wear. So ya... its a good reason to get it right?
So the other question is which design should I get it in? The LBD, pink one or the black and white little flowers one? I couldn't get all coz its not that cheap.
Come on and give me comments. Don't be mean ok? I love you guys... Hahahaha~
Ok end of that.
My bestie and housemates got me my early birthday present and its....
Everytime I go to Sungei Wang or Gardens I will get into the shop selling these babies and stare at them. That got Shiu Li the idea to buy this for me. So terharu. Thanks babes.... *muaks*
Erm... did I miss out anyone?
Just thanks damn a lot coz I love it a lot. Its with me 24/7 at home. I even brought it to Midvalley that day. Hahahahah~
I initially called it Lili coz Shiu Li was the one who told me that she was going to get me it. But I couldn't be so unfair to the others right? So I decided to call it Pinko or Piko coz its pink. But it sounded lame.
The other day I was out rehearsing at LTP and Cheong Ming (don't know if its the right spelling), the Korean was with me. I suddenly asked him, "
Erm...what's rabbit in Korean?
". He looked at me puzzled. "
Tuki. Why?
" Hahahahahah~ I said thanks and went off smiling.
So now the rabbit is called Tuki. :)
I'm so crazy about Tuki now that I bought the same rabbit for my Samsung. Now hanging on the phone is...
Haha~ Don't worry I'm still a big fan of Stitch. Samsung is still in my Stitchie pouch.
Well, thanks again to my dearest friends. Its my favourite birthday present so far. Erm~~~ also the only one la. Hahahah~
Dad got lost at Abdullah Hukum on the way from KLIA to fetch me. Hahahahaha~ So supposedly I was to go back at 5.30pm, end up going back at 7pm. -_____-
I know many people don't get it why I take so long to pack my things to and fro KL/Melaka everytime break and school re-open.
Here's why...
That's how much things I bring to and fro each time during break and school reopens
The reasons are simple. I don't have of clothes so I have to bring back to Melaka so that I can dress nicely during the break. Then there's no bags in Melaka that I can use so I have to bring back my whatever bags back. As for food, there's no snacks at home coz nobody eats them, so I have to bring snacks back.
For those who think its little stuff, let me tell you about the amount.
One bagpack of magazines
One bagpack of books
Two bags of clothes
Two bags of food
One bag of bags/handbags
One bag of toiletteries/makeup/accessories
One bag of shoes
Laptop
One box of cables/charger/camera/handphone/mp3
violin
Hahahaaahahah~ Now you know the real crazy me.
Will update about the stuff I bring back to KL by the end of the break. I think more stuff will be added to those above.
Last thing before I leave, I'm in love Chris Daughtry's songs. I mean all the songs only had his voice right? So its his songs lor...
My fave for the moment is What about now? Check out the video. Super meaningful.
Ok lah... Gotta go.
Currently cleaning up the closet. Old clothes gotta go so that new stuff could get a place. Heheheheh~
Hair makeover tomorrow. Uber excited.
Wait for it.
Bubbye...