Hey ya folks~
Sorry for the MIA again. The wireless that I usually stole from was not switched on for a few days. I am guessing that they went on a holiday or something like that. Coz its the hols for the school kids d mah~~~ And of course the land line is still like ass.
I got to come online today because I'm in KL. I'm in KL because I did not finish my assignment earlier on so I had to come back and do it. DAmn sien but still had to do it coz I don't wanna re-take this damn subject.
I've went for my makeover and I'm damn satisfied. Actually not much done la. I just straighten the fringe and the top. So its not much difference. I've decided to keep long, straight, black hair until the end of next year. That's for now la... don't know when I might change my mind. Hehe~
Photos time...
I had 20-30 mins to spare so why not camwhore right? Hehe~
DAmn lame coz too bored and too much time to spare. Wakakakaka~
After washing of the cream, she pulled my the crap out of my hair with the straightener.
Okok... I made that up.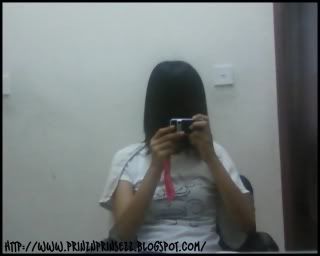 After she straightened my hair but before she trimmed it
I looked like Ju-on right? Hahahahaha~ Like damn scary. Like faceless ghost of some sort.

Haha~
Actually I brought my camera to the hairstylist auntie's house but I shy wanna take it out. Coz of the whole bling bling thing, it tends to catch a lot of unwanted attention. So I decided not to use it and used my Samsung.
Are you ready to see my new hairstyle?
Erm... well, its not that new la. Its just straightening nie.
So are you ready???
Don't so ganjeong la... Show you some other photos first. Haha~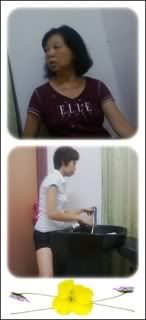 That's Mama on the top and the hairstylist auntie, Nika
Nika is a Thai who got married with a local Chinese. She used to work in a saloon in Bukit Beruang but gave up work to take care of her children. So she opened one small saloon in my taman to earn some money la.
She's not a bad hairstylist la... not as good as my old hairstylist Evon but ok la... I like the stuff she did with my hair since last year.
Okok... here's the outcome...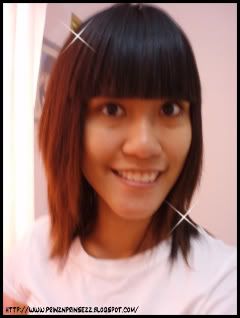 I really preferred myself with bangs, I don't know why. I really think I look damn ugly baring my forehead. Maybe side parting is ok lah. But must at least cover half of my forehead. My forehead is just plain ugly. For kids it might looked cute but for me... NAH~~~~~
People said i look like cleopatra. Hahahahah~ I bet my skin colour was the reason why they said that la... and the hair maybe. I'm not even close to her beauty la.... Some people just said I looked normal. But I think I like this lor...
What do you guys think?
K lah... just a short one for now. Damn free so might update if i had time later.
Tata~~~