I was pretty lucky to get the invite to Nuffnang Music Bash with
such a lousy post
if compared to others which were so creative. So thanks Nuffnang for picking me :)
So here's my take on the event. Most of the photos are of my friends and I. Coz we kau kau camwhore. Hahahahahah~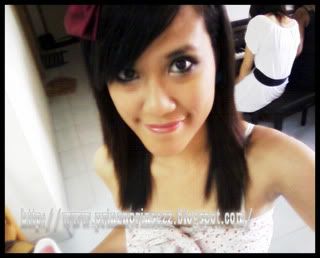 Like I said I was going to dress up as Katy Perry but seriously regret for not thinking of somebody else coz the place was filled with oh so many Katy Perrys. Zzz~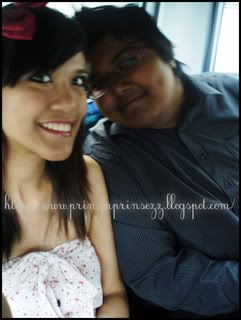 On the way to MAison with
Buvie
at the back seat. Oh Buvie was supposed to be herself (yes she's a girl!!!) for the event but at last she decided that she wanna be man in black.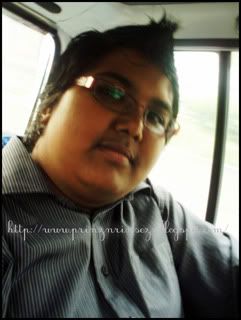 After registering we started our camwhoring. Didn't event care who was at the event. BTW, that's Buvie, Shoo (who's dresses as herself), Puff (who's supposed to be a cool black lady but I called her Puff Mummy) and myself.
At first we thought we were overdressed but reaching there made us felt so underdressed. These people really dress to the max. Like seriously wanting to win the best dressed award lor.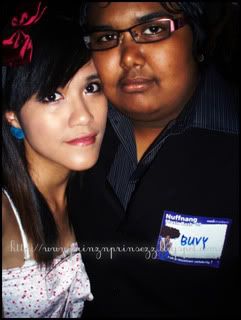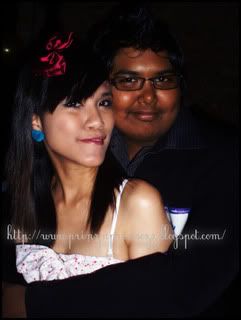 Yer... my mouth like senget nie... and people...BUVIE IS A GIRL!!!!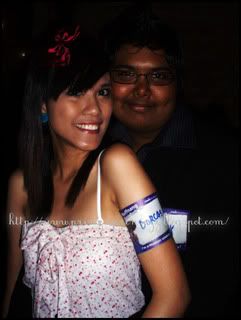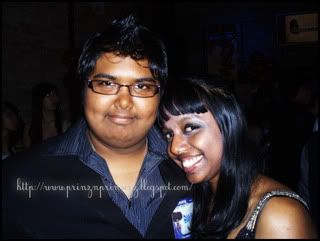 Puff's makeup was too thick coz I don't have the right shade of foundation for her. So sorry. But it became better as the night went on.
Darling, invest on one foundation la... you might need it one day.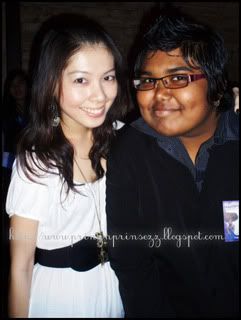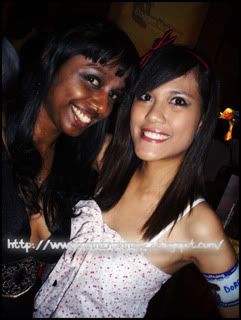 Oooh~ my lips were still very red at the beginning of the event. LAter you will see it all gone.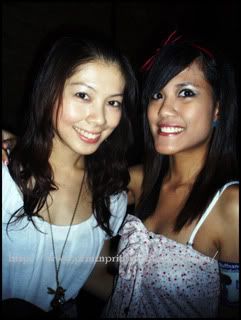 Shoo is so pretty la and freaking thin. She said she envious of my sharp face. Gosh!!! I hate my sharp face like hell. What did she like about it man????
The event officially started by performance from The Holograms which is a band for bloggers by bloggers. Now you know what I mean when I said that we were underdressed? Most of the people dress up something like this lor.
Anyways, on why I circled the guy in the photo is because he scares me. Don't know why. Maybe I'm just plain afraid of painted faces people. Haha~ BTWs his name is Andrew if I'm not mistaken.
Playing around with the Nuffnang badge which was my favourite souvenir in the whole door gift they gave us.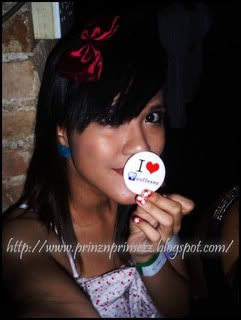 Yes I love Nuffnang coz they shower me with moolahs, gifts, freebies and great events like this one.
*muaks*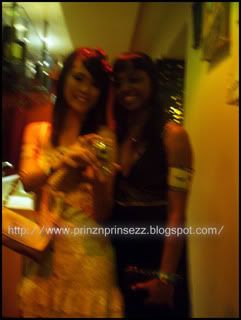 The lighting in Maison was terrible that we could not do our favourite mirror shot. T____T
But I think blur blur also not bad looking lor.
We decided to go mingle for a bit coz we were quite bored just camwhoring with ourselves. Haha~



Puff Mummy with
Jess
(who's Amy Lee from Evanescence) and a blue hair guy that we don't really know.
Just started reading Jess' blog. Nice lor... Another new blog to stalk. Hehe~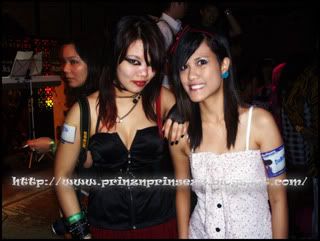 Amy Lee and Katy Perry
I should have thought of somebody gothic as well coz Jess looked damn cool lor.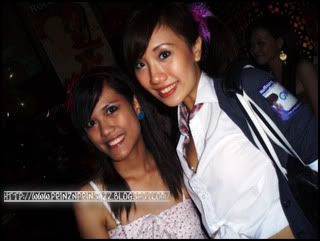 Katy Perry and
Cindy Tey
(who's Britney Spears from Hit Me Baby One More Time video) from MDG
Cindy's very friendly lor. And her voice reminds me of Paulie's sister, Chris. Haha~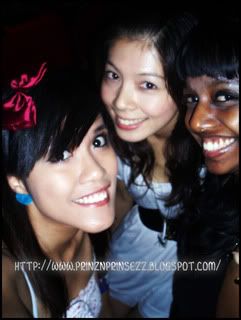 Then it was time to feast and I tell you Shoo is the weirdest skinny girl I've ever seen. She eats so damn a lot ok. Imagine a stick think girl eating two big plates of food with no problem at all. And she keeps getting hungry. She's like crazy man...
This was taken while we queueing up to take food from the buffet counter.
Katy Perry scaring Puff Mummy while she's downing the free flow Coke. Haha~
Crazy Buvie downing beers before eating anything. Craziness lor.
And to those who are concerned (including Sinren Liow) I did not drink a lot of beer coz I was afraid that I might get rashes and also coz I'm not so well recently. Ok? Satisfied?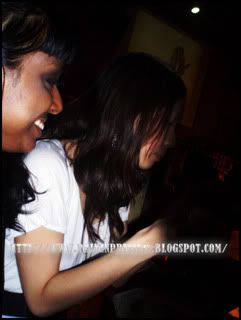 Aiyah...cannot see the amount of food she took. Trust me she's really a monster.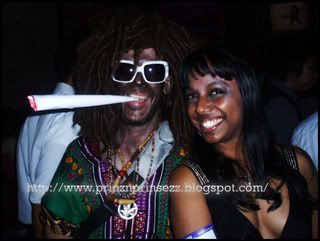 We saw this guy from a far and we knew exactly who he was. And we were dying to take photos with him coz he's damn cool. So Puff became so brave and went to call him over to take photo with us.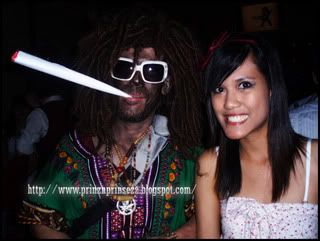 Bob Marley with his big ass ciggie and the "he-he" smile Katy Perry
Oh he won the best impersonator for that night and walked home with a PS3. I couldn't think of anyone better to win lor. Damn geng lor him.
Anyways, his name is
Julian
and he's white.
Now you know how geng he is.
Ya mahnnnnnnnnnnnnn!!!!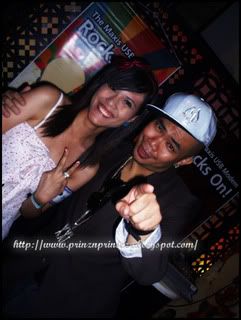 Katy Perry with Liang, the MC for the night. He did not need to dres as any celebrity coz he's already a celebrity himself. for those who didn't know, he's a Malaysian singer. Damn proud of myself coz I know my Malaysian singer
*shows proud face*
.
He's damn nice lor and so witty. The whole event was damn funny because of him. Made us laugh like crazy the whole night.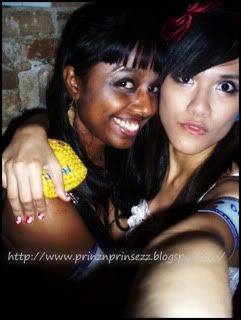 Back to camwhoring and people, my red lips are gone. Haha~
Puff doing an ad for Heineken. Like damn pro drinker nie...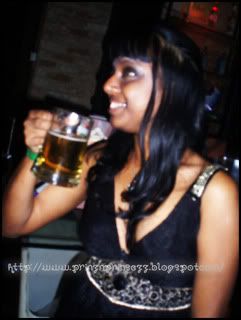 But actually she hates drinking beers. Haha~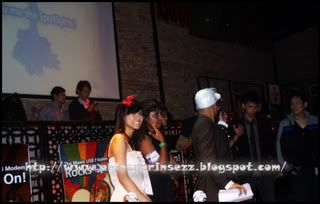 Puff and I went up stage to play one of the games. Unknown to us this game was to test how long you could sing the end of a song which I suck at a lot. But what the hell we couldn't run off already.
When I knew about the game,...
Me:
Oh Shit
(almost whispering)
Liang:
I heard someone cursing over here
(looking at me).
Why are you cursing arh???
(he was saying it in teasing tone la... No seriously)
Me: *gave him my signature "hehe hehe" laugh*
Liang:
I heard you go Oh Sssssshhhhh...
Liang:
NEver mind la... I know you're nervous.
Apa nie... made me more nervous nie...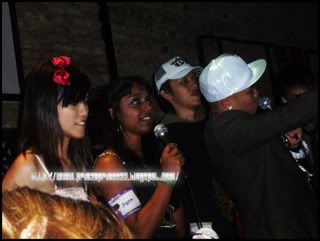 Puff singing Kau Ilhamku in a very inaccurate beat. Hahahahahah~ Coz Liang was like "
Girl, girl, mind your beat
" Hahahahahahah~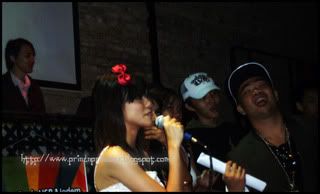 Me singing Fall for You and look at Liang's face. Hahahahahaha~ Damn hilarious.
And I lost. T____T Lost to a girl named Natalie who sang damn powerfully and pull her last note for don't know 13 secs or 30 secs. If she won with only 13 secs, I'm a disgrace to the music department. T_____T If 30 secs, I'm ok lah...
She won a pair of shades btw.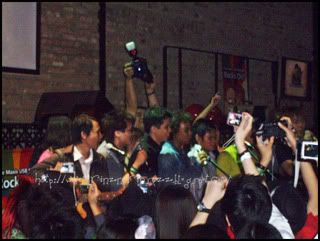 The Nuffnang All Stars performing on stage
At this point I couldn't see the front stage well coz everyone was crowding up front.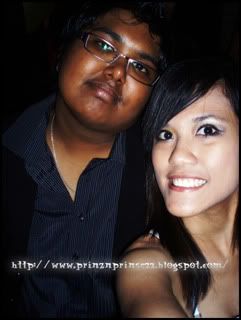 I was super excited when I saw
Audrey
coz she's like my favourite blogger. So I quickly asked if I could have a photo with her.
She's like so cute and petite. Why am I not born cute or petite? I'm like not tall not short and confused whether I'm girly or manly. Damn sad. T_____T
After the event we decided to stay over to party for a bit and also to camwhore la....
I love this photo a lot don't know why.
We went upstairs to take photos and also to do some live blogging coz Nuffnang prepared six laptops with Maxis Broadband for us to do live blogging. But your stupid blogger blogged but didn't submit it in and left. Dumb dumb dumb.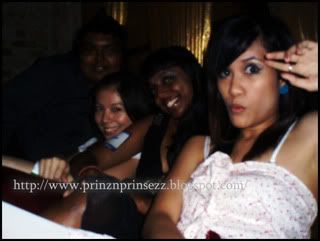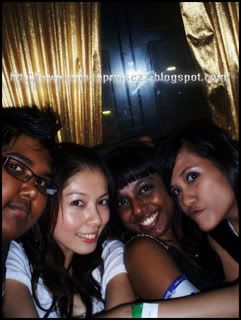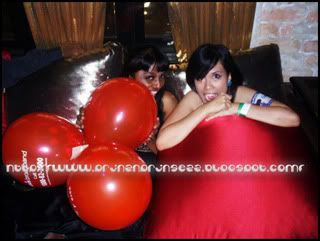 Got excited to see balloons. And I'm acting naked = =
I'm looking as amazement as Puff trying to look cute with balloons. And Buvie is just plain gloomy coz all that is in her mind are ciggies. Hmmph!!!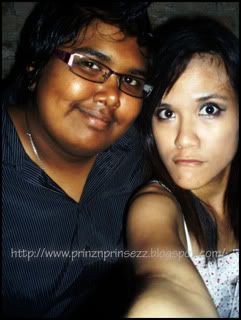 Hot and sweaty and my hairband is all gone. Hahahahahaha~
Yes, Bu...we know your name by now. :P Maybe you should put a sign showing that you're a girl. Hahahahahaha~
So mean...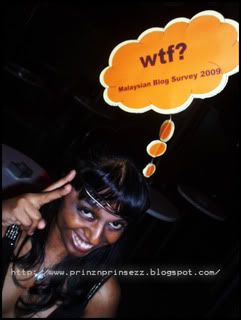 Stolen from Julian, the Bob Marley. Hahahahahah~ Really wtf lor.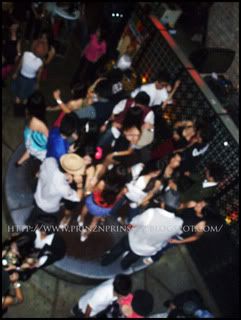 Last look at the dance floor before we leave
You know I saw somebody's hot pink panties. But I'm not telling who coz that person's quite a famous blogger. Aiyo... climb down from the podium be careful mah...
Anyways, Maison was quite disappointment lor. The songs aren't that nice. And the amount of people was quite little lor. Its weekend wei but so little people that its like kesian.
We left early coz I was having a massive headache. So sorry to the girls. T____T And I didn't have much fun coz my head was near to explosion.




This is the door gift that they gave us on the way in. I don't really like the Hip Hop design paper bag. I preferred the Pop one.
The hip hop fella on the paper bag reminds me of Jay Z. Haha~ Thick lips punye pasal.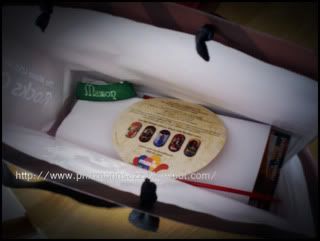 The goodies that I didn't really need except for the I heart Nuffnang badge, the laptop sticker and the sunshield.
I gave Esther as a gift of thank you for fetching me to uni and back for two years. Wasn't anything great to repay her kindness but at least it was a gift from the heart right? Hehe~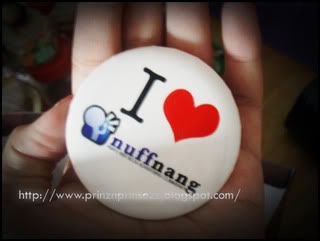 My favourite souvenir :D
Thanks Nuffnang for giving me the invites and also Maxis Broadband too. Had lots of fun.
Gotta thank Puff who came along and also Shoo. Buvie tu... tak payah thank u la kan? Coz she got her own invite mah... HAhahahahaha~
K lah.. Gotta go.
There's gonna be no sleep tonight coz I'm gonna finish my thesis today.
Ganbatte to moi!!!
Bubbye...