Hey hey...
I know how some people are anticipating this post. Kwan li shan for one is one of them that I know coz she left a comment just to ask me to faster post it up. Hhaahahhahahaah~
So wait no longer coz here's part one. Had to divide into different parts coz you know how lousy the line is. Zzz~
On 10th May, my dear housemates, Esther, Shiu Li and Chooi yin came to Melaka and we head straight to Jonker the night the arrived.
I hardly go to Jonker because its far from my house and most of my friends don't like going to Jonker. Zzz~
Reaching Jonker, we went to have dinner first coz we're super hungry.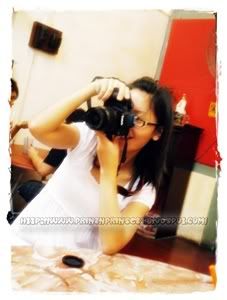 Gotta take a photo of our favourite photographer first coz if I don't there won't be one with her inside. I know how that feels *bitter* wtf. Haha~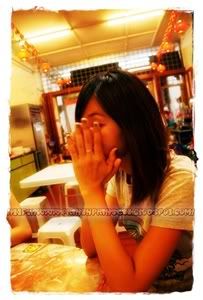 Chooi yin being shy. Hahahahaha~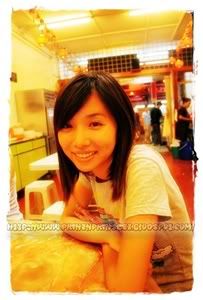 Eh sudah tak shy pulak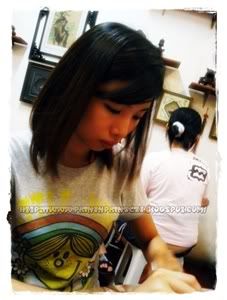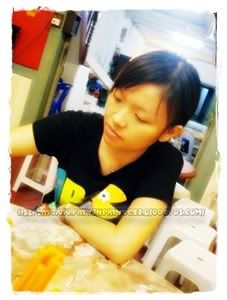 Shiu Lili...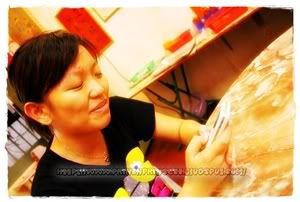 So happy seeing the sms...we all know who its from la huh? Hehe~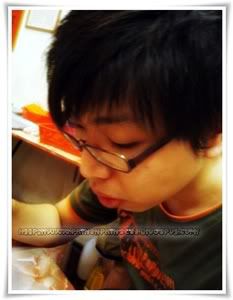 My neney and his new haircut...
So good looking you can die. For me la of course. =p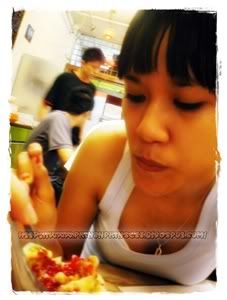 Moi digging into neney's ice kacang eventhough I was not well at that time.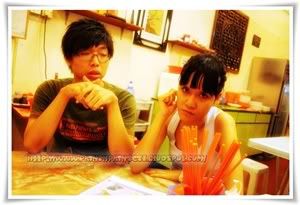 Haha~ I know I looked super garang but its on purpose la...
The food we had: (from top to bottom, left to right) cendol, dumpling soup, rendang chicken mee, ice kacang, asam laksa and rendang chicken rice.
This shop is not as good as its neighbour but because the neighbour is closed, we chosed this. The rendang chicken was fabulous 'tho. Should try it. Its the shop beside Jonker Desserts. Forgot the name. Hehe~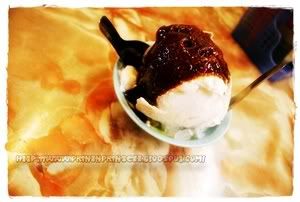 This cendol was not as nice as the one I like. The gula melaka is too sweet. Will show you guys the best cendol in Melaka once I'm there.
We didn't have the best cendol coz both days we were not lucky. On Sunday night when we reached the shop, uncle was cleaning up d. And on Monday, the shop was closed. :(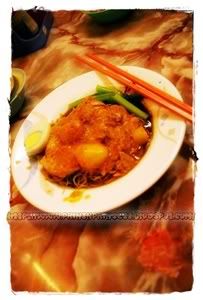 Gotta try this. Damn good but very spicy coz its nyonya style rendang.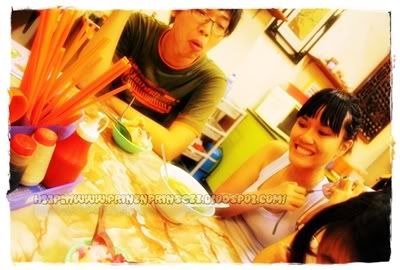 See my neney eat until so happy. Hahahahaha~ And I looked spastic as usual. Lalala~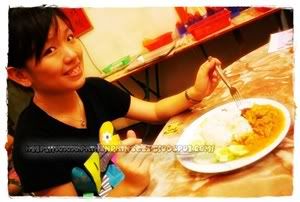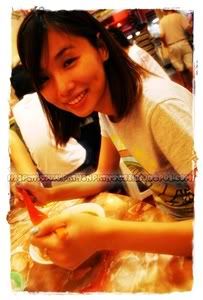 Everything was too spicy for Chooiyin. Poor girl and a disgrace to the baba nyonya community coz a nyonya should eat spicy food with no fear. (yes, she's also a nyonya like me...so ngam. Whee~)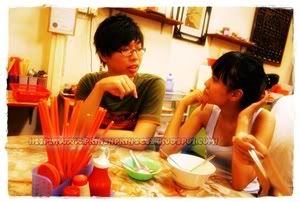 Anyways my mum had been telling me that I'm fat. WTF right? I know I put on weight but not fat ok? So rude. Lol. I asked my bf if I'm fat and he told me this. "Oh fat a bit lor. That day at Jonker you wear that top only I realized (talking about this top I'm wearing above)." OMG!!! Am I really like fat? I think I looked ok la... Not fat until must lose weight lor. My mother kept asking me to lose weight and cut down on my food. T____T A girl must eat to grow right?
Putting that aside... after dinner we went to shop in Jonker. You can actually get lots of things in Jonker. I don't get it why my friends don't like coming here. You can get the latest fashion in Jonker Gallery and lots of other things that's in fashion right now. Even can get genuine Crocs in Jonker. *put on Dean Cain's voice* Hard to believe. Believe it...wtf. Haha~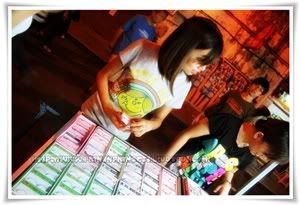 We saw 3 for 10 eyelashes and rushed over to get it. And yes la they are quite low quality ones but who cares right. Its not that people can tell. Just don't use the glue la... might blind ur eyes.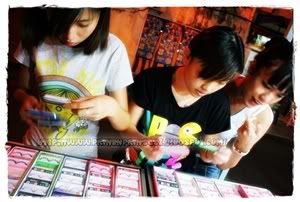 Look at my xcited face. Haha~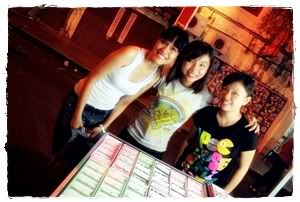 We each bought a pair. All of us except for Esther la... I bought one which was a fake M.A.C. Lol. It even has fake korean written on it as if damn class. Sinren can read Korean characters that's why he knows the words doesn't make any sense.
Next we went to this store which sell earrings. Also 3 for 10.


Trying to secretly take a picture of Esther but failed. Hahahhaah~ Chooi yin and Shiu Li looking at the earrings.
Chooiyin seriously looked like my little pudding head. For those who didn't know, my little pudding head is biggest enemy in the whole wide world. How can some one so nice turn out to look so much alike with my worst enemy? Not the looks la... Just the way she is. Gosh! Its so alike its scary. I was almost afraid that chooiyin was going to slap me like little pudding head used too (once only la...so stupid meh? keep letting her slap me). Nightmares...
Esther so sweet looking :) and those two at the back like so serious nie choosing. Hahahahaha~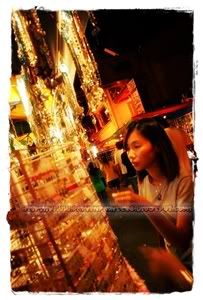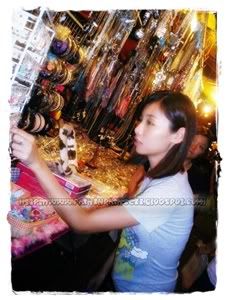 After much shopping done, we went to eat satay celup at Capitol.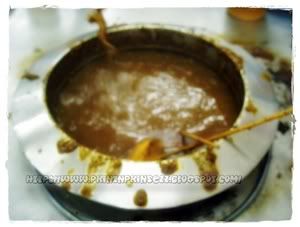 The boiling pot of yucky looking delicious gravy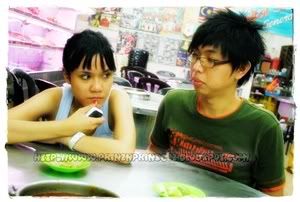 I don't know what I'm looking at but I was looking like I was ready to kill whatever I'm looking at. Haha~ And neney looked at me so lovingly. *shy*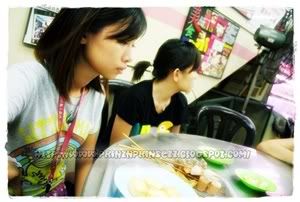 What i told you about not to forget to take the photographer's photo? See no Esthers. Poor thing.
anyways, Capitol tasted bad. Don't know why. The crunchy peanut gravy tasted like blah nie. Maybe coz we're late and they're about to close shop d. Sigh~ disappointment.
That ended the night and we went home to sleep. I had a terrible night coz I didn't sleep well. I coughed the whole night and couldn't sleep in the same room with them. I only crawl back to the room in the morning when I was not coughing anymore. And guess what they didn't realized it until I told them in the morning. Haha~
K la... That's Melaka part 1.
I'm teaching piano privately at home. No much of a business yet. Just about 2 students who are my friends la.
I distributed flyers but people only called about pricing and not confirming about classes yet.
So anyone reading from Melaka, help me to promote a bit. Preferable if people from Bukit Katil, Bukit Beruang and Air Keroh to come coz its nearer.
Anybody interested please call O12-6219039 or 06-2324628. Ask for Miss Pang coz Dorcas is just too difficult to pronounce. Haha~
K la... See you guys soon.
Movie night with neney tonight. Happy!!!
Bubbye...