Yes, this post is going to be filled photos of me camwhoring but don't worry its not all that uninteresting. Finish the post and at the end there's something which I think is quite nice to share with you guys.
So hang in there.
Anyways, you guys might have read in a post before that
I tried on fake eyelashes
right? Well, I've been waiting to put them on more often but because of all the fuss, I decided to just stick to my ori ones coz they are actually very long already. But I think I own too many falsies for someone who doesn't wear 'em so often.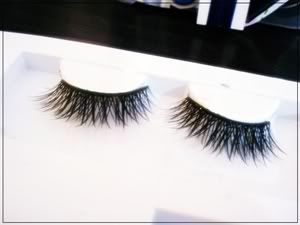 This is the pair that I wore for my last post. I like this one the most coz it makes my eyelashes very thick. My eyelashes are long but they are not thick enough so this satisfy my need.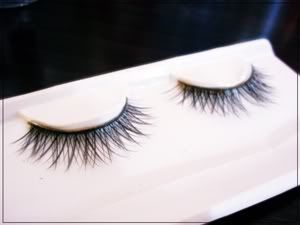 This one was given to me by Li Shan during end of first year or second year. Can't remember. Never used it ever. Just in the box to collect dust.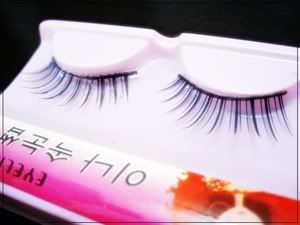 And this is
the one that I bought recently at Jonkers with CY and Shiu Li
. Erm...actually not so recently la... Few months back d.
The other while getting ready for a church event, I decided to put on falsies just for the fun of it and also coz I have enough time to put them on la...
Used the glue I bought at Daiso to stick my lashes on. Seriously its good. And those two tubes near by are stupid glues that don't work. Erm... actually one 'em work but I finished it already la...
Ok comparison time...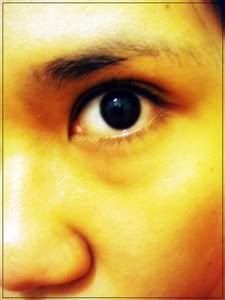 Without falsies or any eye makeup on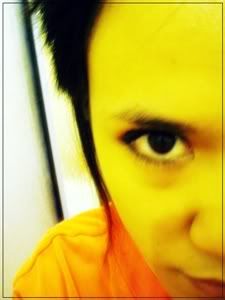 With....er...sorry this photo cannot see the difference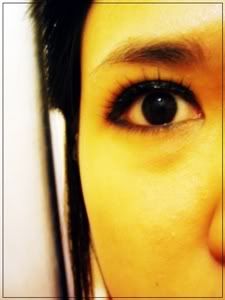 Ok...now this is the one with falsies and my normal makeup. Compare laa.... damn big difference right?
Now the side ways to show more comparison...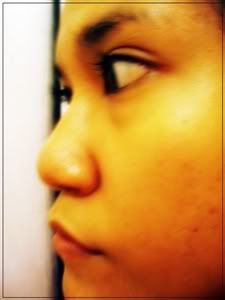 See I told you my lashes are actually very long without falsies. Just not thick enough.
Please pardon my ugly complexion. Those spots had been there all my life...er~~~ maybe after puberty la... HAha~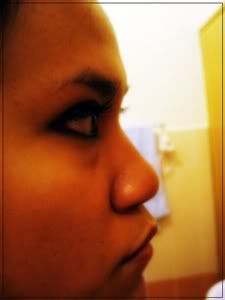 With 'em falsies on...


So there you have it.
I think I should start wearing 'em more often la... Just for the fun of it right? Put it into a habit like those Japan kawaii girls. How did they do it everyday arh??? Amazing lor... And Sheene dear who is also wearing it almost everytime she goes out. Really amazing lor.
Without putting on falsies I only take like 5 mins to do my makeup. With falsies, I think 30 mins lor...
Naturally for a camwhorer, after dolling up, its pary time...hahahahahhaha~
Now for the part you guys are not waiting for...

kawaii failed!!!
Yer... I hate when I smile like that...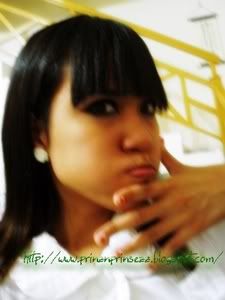 This is called the cover the ugly pimple pose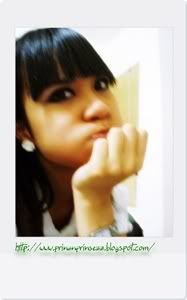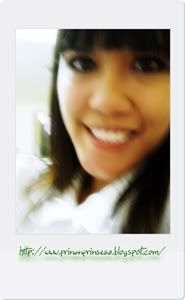 Gosh!!! I look so fair in this photo... It must be a miracle!!!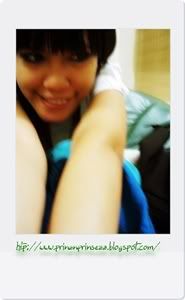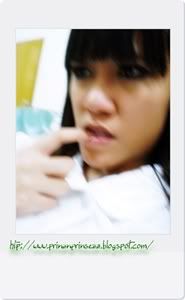 Act sexy fail!!!!
GELI!!!!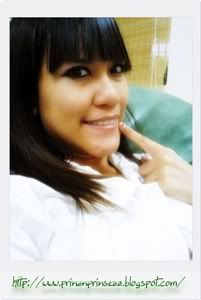 Phew.... end of it. Are you guys still here? Did you pull it through?
Anyways I've been thinking about whether to keep my bangs or let it go long and put it to the side. What do you guys think? Comment a bit lah can? Coz you know la these things bothers me all the way to sleep one k?
Ok now for the thing that I've been wanting to show...
This is one of our pre-performance before John's wedding. We're grabbing every chance possible to get used to the mike and stage fright.
Ermmm... in case you don't know these people, they are (from left to right) Paulie, me, Jacy and Jack. I can say that they are the best singers in church minus me la... You'll know that I'm a lousy singer coz right at the beginning I went out of pitch. T______T DAmn embarassing ok? Everyone was like telling us: "Eh, the beginning a bit weird arh...." FML!!! FML!!! FML!!!
This is a Christian song called 我们爱(wo men ai) which means We Love. Had to learn the song in a week and perform it after a crazy night of Satay Celup.... I think its very good already minus the out of pitch by moi at the beginning.
So enjoy...
...and see you guys in the next post...
Mwah!!!