Hello...apa khabar???
Gosh!!! After two days of editing, resizing and uploading, I'm finally done with all the wedding photos. Thanks to Peipei, Kaylyn and Jacy who allowed me to steal their photos coz some shots that were quite important was not in my camera.
Ok this post is all about the morning where we went to Muar to fetch Li Yee. Ignoring the fact that we've only have like four hours of sleep, we got up quite early coz all of us need to shower. I needed to wash my hair coz the bangs were looking not so good that morning.
We reached Han's house quite late coz all of us fought to take a bath in my mum's room which had hot water. And also coz all of us are damn vain and we took damn long to do our makeup.
Had breakfast at his place and took group photos of 姐妹 (jimuis=sisters) at the front door.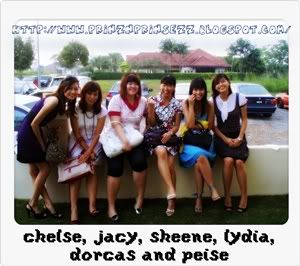 Don't know why we laughed until so happy. I mean Lydia and I la... And Jacy tertidur coz she's basically a pig. Hahahahahaha~
Actually one of the girls in the photo was not the 姐妹 but let's not start a fight shall we?
Not much photos on the way there coz we were all stuffed like sardines.
We went straight to Li Yee's house first coz we had special privilleges. Hahahahaha~ The guys stopped somewhere to take photos. Damn weird ok? Out of no where they stopped to camwhore.
You know how he bullied me? He called me 印度人 (indian) all my life. And he used to bring his gang to step on Chelse's and my foot. For the fun of it. Can you imagine??? I think he was the one who trained me to be so rough.
But to compare with other people, mine was nothing. Hong used to be his punching bag, Paulie often kena pull down pants...etc.
Han actually knew all along that Li Yee was in another room. Bloody fool. On Sunday morning he broke us the news that he already knew it and we were all ceh-ing. Wasted our time and sweat standing there guarding like bodoh.
Oh PAulie went to drive one of the other 姐妹's car so we had more space to sleep. But the poor fellow got lost. Hahahahahah~ DAmn dumb.
We had lunch and talked bullshit for a bit then we had to leave coz some of us had make over appointment. It was everyone except me. T____T Nobody asked me if I wanted a makeover. So sad.
Left Han's house with JAcy. She asked me to walk home since its so near. But darling, the sun is so strong. Are you trying to kill me?
Next post will be about the ceremony, the dinner and our performance.
Hope you guys enjoyed the photos coz it was precious memories for me. I can't believe one of us is married. Its so weird to hear the elder announced Mr. and Mrs. Ng Eik Han at church on Sunday morning. All these years it was just 黄约翰小弟弟 (little Ng Eik Han) then 黄约翰弟兄 (Brother Ng Eik Han). Now its 黄约翰夫妇 (Mr. and Mrs. Ng Eik Han).
I guess its just a process of all of us switching from one stage to another. I can't believe how fast all of us had grown. All these flashbacks came back all through the weekend. Sigh~~~ I feel so old now.
K la.. Enough with my old aunty talk.
See you guys in next post ya.
Tata~~~