Hello hello~
Part two is here!!!
Photos all thanks to JAcy, Kaylyn and Neney darling... coz my camera's batt gone crazy. Gotta get a new one.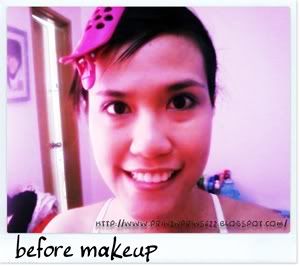 Took a shower damn quick and this was taken before all the makeup action.
Oh and I put fake eyelashes again. Damn cantik right? The new glue I bought was super good. Love it!!!
Thank god my darling neney said I look nice and made my day. And as for himself he looked absolutely dashing that day. So good looking I don't know why. Hehe~
They looked like sisters a bit right?
He's gonna kill me if he sees this.
But he did alright la... And it was super touching. I was standing at the back so I couldn't take a video.
We went out of the hall halfway coz we needed to help out at the reception counter and guess who came out at the same time?
The videos of the performance is with Nana coz I asked her to video for me. Thank u so so much. Will get it from her soon and post them up.
I think I was damn nervous that I went out of tune a couple of times. T_____T But overall I heard the whole thing was ok. Phew...
Sinren came up stage to give me flowers. DAmn shy.... *muaks neney*
After the performance, the madness began. Everyone started drinking like there's no tomorrow. (actually there is tomorrow coz we all need to go to church the next day) Jacy and I didn't drink much but I think we got high the fastest. Hahahahaha~
Sorry pei...I love you so much that I covered your face with my hand. Hahahahahaha~
There's another group photo taken with Han but its not in my hand yet la. But during that time I was shouting or dancing or something. Then Han shouted: "Oi! 你喝酒啊?喝醉了是吗?" (Oi you drank is it? Drunk d right?) He was like seriously sounding me but then I was not drunk and for nothing kena scold. HAhahahahaha~
That's the end of the night. Went home, took off all that makeup and collapse. No beer rash the next day but woke up with a hangover for nothing coz I didn't drink at all. I'm weird like that.
Poor Li Yee was worst. She couldn't open her eyes the next day when we went out for lunch together.
The wedding ended with lots of memories and brought back lots of lost memories. Love that night like mad.
This Saturday we're having a Sushi night at Duyong and on Sunday JAcy and I are going to crash HAn and Yee's house for sleepover. So long didn't do it d. The last time we did it was two or three years back a day before Joey's (Han's sister) wedding. And Joyce had bugged me the longest time to stayover with her.
Will take photos of the house coz its damn nice k? And I secretly wanna try out HAn's room's jacuzzi. Hehe~
K la... Gotta go. Working tomorrow and then pat toh night.
See you guys soon.
Tata~