Hello
LAst night after work, I headed down to town with sinren. We went over to Nana's place and grabbed photos and videos from the wedding. Yay!!!
Before we go to the photos, last night after Nana's we went to Jetty for our weekly pat toh day. When we were there, the beer garden at Jetty was not as windy as it was usually. It was almost like no wind. I started whining about no wind. Then suddenly the wind turned damn strong ok? I thought Tsunami was going to happen. Like serious ok? The chairs beside us started to move on its on and fell to ground. Even the tables started moving. Damn scary.
Then sinren asked me to move into the buidling coz we were outside. I was nearly blown away by the wind wtf. Hahahahaha~ But serious ok? I couldn't move on my own. The wind was pushing me.
At the end it rained. Thank God it wasn't Tsunami after all. Hahahaahahaha~
Ok photos time...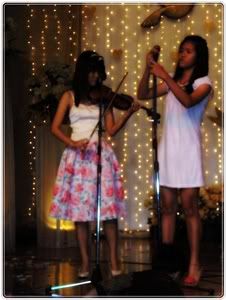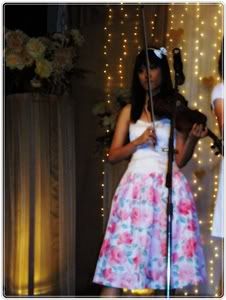 Who's that hottie holding the violin? Hahahahahahahah~
The violin thing was a disappointment. Not that I didn't play well. In fact I played better than any of our practice or rehearsals. It was the PA system that sucked. Nobody heard anything I played except for those on stage.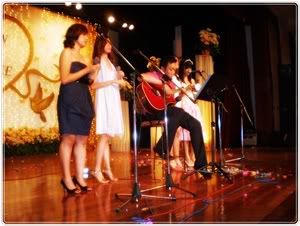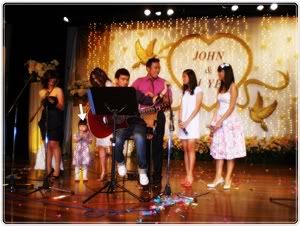 During the last song, the youngest member of our church, BErnice and Xuan Xuan came up stage to just stand there. Damn cute right?
Look at the arrow pointing to Xuan xuan. Don't you think she looks exactly like Boo from
Monster Inc
.?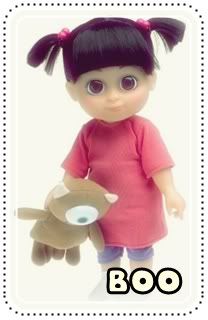 Yes this Boo... don't you think exactly alike????
Sigh~ why la they can sing so perfectly while I'm like...sigh~
Actually Nana took videos of all our performances but I decided to post only one of the five. Coz others can really hear my voice. Hahahahahahah~
This is my duet with Paulie. That's why can hear my voice la right? Hahahahahaha~
I go out of tune a couple of times but seriously this has got to be the best performance I've done. So enjoy la heh? And give comments.
K lah... Today's quite a short one...
Still in the post-wedding happy mood la... Hehe~
Gotta go cook lunch.
Tata~