Another cheating post. Hahahahahhahaha~
Today's photos are from han and yee's wedding's rehearsal. Not many photos coz I was in bitch mode. Hahahahaha~
On the way to Auntie KAren's house. Too many traffic lights so took some time camwhoring.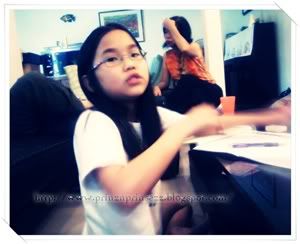 Reached auntie karen's house and Grace was still talking a lot while trying to finish her homework. Hahahahahhahah~ This was candid. I lied that I deleted the photo but... nenenene nene.
The we went to Equatorial Hotel together for the rehearsal. That's when the canon in D was pulled out. T_____T Its ok. I got over it.
Then went to dinner with JAcy, Pastor Phang, Lydia Gue, Seow Wei and Fay. Then JAcy and I had to leave coz we had another rehearsal at church.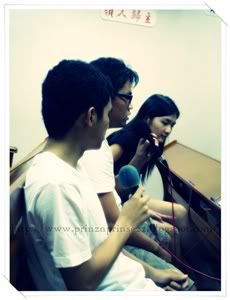 That's the going-to-wed couple!!!! And Paulie tengah kepoh. Hahahahaha~
No la... Han said he wants to sing during the wedding ceremony. He said the song for the wedding march was too touching. He wants to sing it. And you guys have no idea how bad his voice was. Hahahaha~ So he came to our rehearsal and Paulie was actually training him to sing.
Although his voice still suck (I'm sorry I had to be so honest but in comparison how he used to bully me... this is nothing), thumbs up for the courage. We're all here for you bro.
Rehearsal was like crazy that night. It put me back into happy mode again.
Jacy, Paulie and I was like high on Mo Fa Kor and was laughing the whole night at stupid things.
We said that the picture on the Mo Fa Kor bottle was Jacy's hubby and she started going all kissy and sang "Lucky" to the bottle. Hahahahahaha~

If you had no idea what Mo Fa Kor was, that's the bottle Jacy's holding.
The whole night was filled with crazy jamming and dancing (by moi and Jacy la...). It was the last practice ma... Sure got some craziness one la...
We ended the night with Jacy playing some songs on the piano. Hahahahah~ She's learning piano with me and I must say her progress sucks. Hahahahahahaha~
K la... End of another post.
See you in next.
Tata~