Hello hello~~~
Back from my busy weekends. Sigh~~~ Don't understand why people can relax on Sat and Sun while I have to work like a dog. T_____T
But I am thankful that I don't have to work on Mondays and most of the mornings of the weekdays. Or else you'll never see me online ever.
Anyways, I went to dye my hair this morning. Yes, all these pictures are the latest. Like happened few hours ago nie. =D
Dragged my lazy bum up at 8am to wash my hair before the appointment which was at 9.30am. I don't wake up that early usually so it took me about 30 mins to flip around the bed and finally went into the bath room.
Drank milo and drove to Nika's with mum. She needed to style her hair.
No photos during the whole dye hair action coz its not that interesting la... So only took one of Nika curling my hair.
The reason why we went to get our hair done was because tonight I'm going to the studio to get my graduation pics taken. =)
I always wanted to get chocolate brown hair colour so went to dye it. Then Nika said some curls would make me look more interesting in the photo. So I decided to get them curled temporarily.
And now for the end product: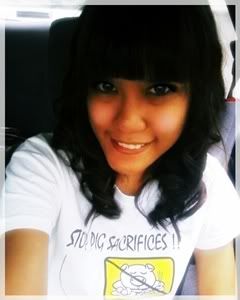 Photos edited with xiuxiu again. Hehe~ Sorry la... without makeup my face really like shit k? So gotta do something to it.
Can't really see the colour coz its dark chocolate. I think under sun can see better. Nika curled my hair in tight curls coz she said by night it'll fall to natural waves. If she make 'em like waves now by night it looks like nothing.
Photo taking tonight. Yay!!!!
Can't wait!!!
Gotta go think of what makeup to put and what to wear now.
See you guys in the next post.
Tata~~~