Hello~~~~
My working days just passed and tomorrow's my off day. Yay!!! I'm going to go dye my hair then go and take my graduation pics at the studio. *excited*
Yesterday went to Sakura House to eat Sushi with Jack, Jacy, Paulie and Kelvin. Had second round at some place I forgot where (drunk again?). Wanted to watch movie but kena call balik by mum. T______T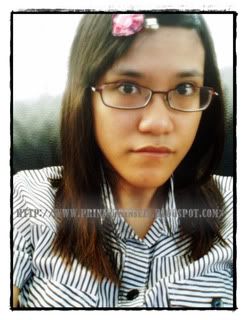 This is today's photo of the day. lol. I found this in my phone. I didn't upload it till now. DAmn kao cute right??? HAhahahahahhahaaha~
Ok... today's post is about the week when I went to and fro JB for my grandma's memorial service. Gosh~~~ tiring four days. But for grandma, its all worth it.
Haha~ Damn weird I know. I can just use one spoon to do all that. Hehe~
Its actually chicken floss la...
Well, there's my five days in JB. Quite boring la... Not much to do.
Went shopping on the last day. Bought nothing but a pair of boxers from Wh. Hahaahhahahahahaah~
Ok la... gotta go d.
Damn tired today.
See you guys in the next post.
Tata~