Hello~
Back from JB since Saturday and its now all work and no play. Er.... no la... last night I just had a night out with the girls and tonight we're going for a movie. I love Mondays!!!
Tomorrow I'll be starting to work at Piano House. And starting from this month I'll be working 6 days a week. Zzz~ So sien can? But for Taiwan I'm gonna work my ass off. (More on that when I have the time)
So anyways, my blog's gonna be for the moment be in boring mode. Coz I had not gone anywhere interesting and my camera's a bitch. There will be pictures but just talking nonsence nie la... Hope I don't bore my people off.
Oh, Sinren left for KL last night. Work hard Neney!!! I hope you could go to Taiwan with me and don't forget whatever I wrote in the letter ya. Muaks~~~
Anyways, do you guys remember my gladiators?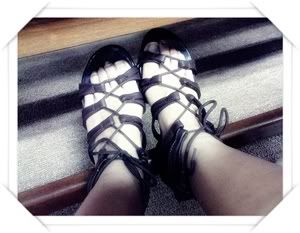 Have I ever talked about this pair of glads arh?
Anyways to cut long story short, I bought this from Sg Wang and I love it to bits. I don't want to buy a pair of gladiators that looked like everyone has the same one everywhere. I quite satisfied for the moment coz no one I saw had the same one with me. *proud*
Paulie calls them Spartan Shoes. Whenever I wore it to church or anywhere else with the church gang, he'll shout at me: "Spartans, get ready to dine in hell!!!!" WTH???? Hahaha~
Ok the reason why I posted up this picture of my shoes was because the other day I was reading the bible at church and I came upon one page.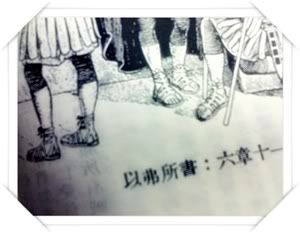 Focus on the shoes of the Roman soldiers
Hhahahahahahahahaha~ Don't you think its the exact one that I'm wearing in the photo above??? Sinren and I was laughing like mad I tell you.
I showed Jacy and the rest of the church gang. Now they don't call it the Spartan shoes. They call it the Ephesian shoes (Ephesian is the book that I found the picture in the Bible).
Hahaha~
Watching The Proposal tonight.
Gotta go to do house chores.
Tata~