Hello~~~
Watched The Proposal yesterday and its effing funny I tell you. Those who haven't watch it better go.
Last Sunday (2/8) after work I rushed home and showered and got dress and rushed down to town for the gang's little get together. We decided to celebrate Nana's birthday earlier coz not everyone's here on her birthday (5/8).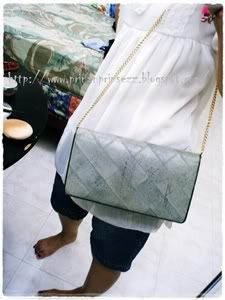 Found this vintage clutch/bag in my mother's closet the other day. I think it looked not bad and matches denim quite well so I decided to take it as mine. Haha~ No la... I asked my mother's permission first. Its actually not hers. Its Aunty Jo's.
The inside of the bag is quite cool I'm show you guys in another post some other day la k?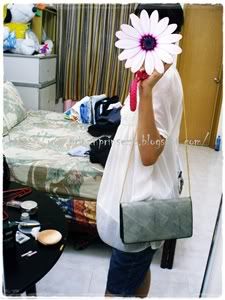 The bag's chain link could be adjusted to either long or short. So when its long its like a sling back like above.
(Sorry face expression too ugly to show the world..haha~)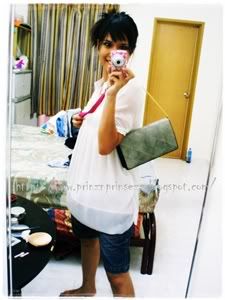 Or if you adjust the chain link short it'll be a short handbag. I chose to use it like a handbag that day. =)
Top: From my friend's online store
Denim shorts: FOS
Bag: Vintage
Met up at Ann's and then she drove while we decide where to go. Usually we sit down and discuss where to go but it takes forever. So driving around and looking is better.
We finally decided on going to Simply Fish at Melaka Raya. Yay! Coz I've never been there.
I didn't get what they mean on the menu but it looked quite artistic la kan?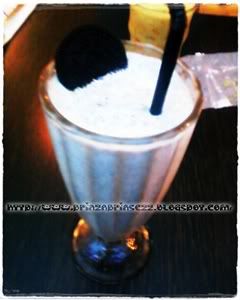 My Oreo milkshake which is yummy...almost as good as Secret Recipe's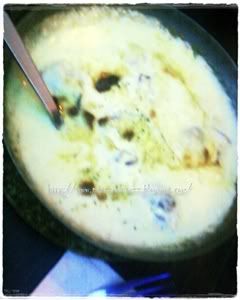 This is a piece of heaven I tell you. Because I took this photo with my camera phone so you'll won't know what it is but its actually Cheese baked Oysters. This is like the best dish that we had that day.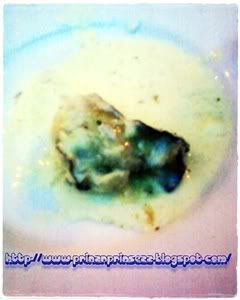 Look at that... damn yummiez right??? The oyster damn fresh and the cheese gravy is just heavenly. I'm definitely gonna make Sinren come here for our anniversary.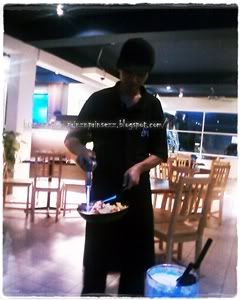 The waiter brought us our Flaming Hot platter and started to burn the thing with his penunu bunsen wtf. Hahahahahaha~
I've seen this in Manhattan Fish Market for quite lots of times d but I'm still awed with it. I was like ah-ing and ooh-ing when he was burning it. And started taking photos. And I was not the only one. I think the waiter surely felt like a superstar now. Haha~
The Flaming Hot Platter after the waiter finished with his "show". We also ordered the Seafood Supreme which was almost like this platter but with fried calamari in it.
Both the platters cannot compare to Manhattan's. Too bad~~~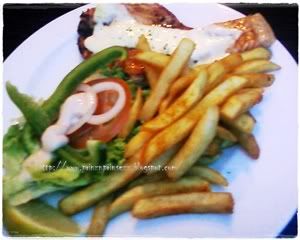 Nana ordered this Cajun Salmon for herself but all of us ended up eating it. Haha~
I don't really like it la... Coz I'm not a big fan of cooked salmon. I love salmon sashimi 'tho.
The cake I bought for NAna. I don't really know what cake she likes so I bought Tiraimisu from Secret Recipe. Is it nice arh Na????
We ended the dinner and went outside for some photo session. Which I can't post it up coz some people will take forever to post up those photos. Hahahahaha~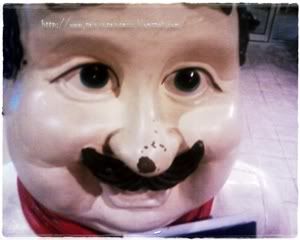 At first he looked mata juling to me but now looking at this photo just scares me. Hahahahahaha~
We went to Portuguese Settlement to eat ice cream and laughed till I nearly died. Seriously ok. I felt I was going to either get seizure or ashtma. Hahahahahaha~ Or both... Hahahahaha~ I even told them that I needed tong gas. Hahahahahahaha~
Anyways, my camera's batt died. I charged it and then after taking like five photos the battery run out. I gotta get a new one or else there won't be any photos to take during convo. T____T No!!!!!!
Tomorrow I'm going to KL to get my graduation robe so I won't be online. Then i'll work till 8pm. Probably will be damn tired la. So i'll put on a scheduled post so that you guys won't miss me. Haha~
Tonight working at a new place. Hope everything goes well. =)
See you guys soon.
Tata~