Hello~
I'm probably not gonna be online today. So this is actually a pre-scheduled post. =D
Anyways, on Monday night I went to watch The Proposal. Did I just said that like a hundred times already? But its damn funny. So please go watch it.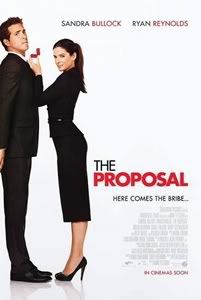 There's so many funny scenes but one that I can remember very clearly right now is when Sandra Bullock was in the woods with gammie. Gammie asked her to chant whatever that she could think of...vowels, words...etc. So she started to chant:
"Windows... windows....walls... walls.... I'm sweating in my balls"
Hahahahhaahahahahahahah~ DAmn funny I tell u.
Anyways, here's the trailer for a sneek peak for those who had not watch it.
Tank top: FOS
Blue top over tank top: Given by one of my cousins
Jeans: Giordano
Bag: some stall at Mahkota Parade
Giraffe necklace with bow: Sungei Wang
I also wore a pair of loop earrings in the photo which I took out before I leave the house. I think I looked to accessorize so I took it off.
Somebody put a tissue on the cardboard Harry Potter. It was super hilarious so all of us took photo. LOL.
Anyways, Sim booked 6 tickets which i had no idea whatever for coz there are only four of us going. Ann forgot to tell Nana to cancel the extra two. We ended up with six tickets for four people. So I called Jacy over to watch it. (And that weirdo screamed into my ears coz she was too excited. Haha~) And one more ticket we just wasted it coz nobody else wanna watch it.
I'm gonna get more plastic cases from Daiso soon. Coz I seriously need them to organize the whole room. Things are too messy.
Before I sleep I started to do some organizing. Bersemangat betul. Haha~
But it looked damn good. Gonna try it for other boxes next time I'm free.
Like stupid nie looking around for suspicious people pada hal the sial one sitting behind of me.
And to the other two accomplice...*slap slap slap* Hahahahahahaha~
Damn lame!!!
K la... gotta go...
See ya all soon.
Bubbye...
p/s: And you wonder why you can't get girls... Hahahahahahaha~ Too beng d. Hahahahahhahaah~ Beng and corny. Hahahahahahaha~