Hello~~~
Back from my graduation and a very busy working day. Really very tiring lor. And I think I'm falling sick.
I'm going to let the pictures do all the talking and do some captions nie coz I'm too tired.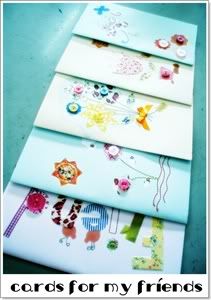 Did a last minute shopping to get some cards for my friends. Thank God for Boon Hong for having beautiful cards like this. At least I don't have to rush to town to get 'em.
And as you can see dad loves his Optimus Prime sunglasses. LOL.
To the junior who blocked me, jaga lu.
Gonna miss her lots. Hope she'll visit Melaka often.
Too bad Kai Yee couldn't make it. T____T
My bf took it to show people where we are so that they'll find us. Haha~
Look at my worried face!!!
DAmn too long didn't put myself on the weighing machine d. Don't know heavy or not sial.
Thank God not everyone came coz then can't fit everyone in. Hahahahahahaha~
Hahahahahahahahahahahahahaha~
Mum and dad dropped us at Midvalley coz we're having dinner together while my parents went to see my Grandma Wong then went home.
We went to have Paddington House of Pancakes.
Now its all food photos. Those who are hungry please don't go on.
Didn't try it so I don't know the taste. Haha~
Its a piece of pan-grilled dory fish fillet with seasoned pancakes. DAmn nice!!! Gonna eat this again if I'm back there.
We nearly died when they brought our dessert, pot of gold. But it was damn nice. We finished it within minutes.
Next time just go for desserts pun boleh la... Damn nice la.
First of all, I thank God coz through His blessing and mercy that see me through my university life. He guided me in everyway and everywhere. With that I'm very thankful.
Then my parents who supported me in no matter what I do. They didn't really care about what I wanted to study but just supported everything I decided. I know people kept asking them why I took music but they didn't question me that ever. *LOVE* I know I made them really worried alot of times because of me getting sick in KL. So sorry for that. Too many things to thank them d. Don't know what to write summore. Just thanks for everything la...
My boyfriend who took my mother's place in taking care of me and nagging me. He also kept me companied when I was bored and became my kuli during my shopping trips. Thanks baby...
My housemates in UT (and MC) who fought the battle of thesis with me. The four of us sitting at our desks doing thesis are priceless moments that we spend together almost everyday. And also dinner time, yumcha time, mee cup time...etc. Too many la. Most important is all the shopping trips to MV and Sg Wang. T_____T Gonna miss you all like mad.
Li Shan and Mel... Thanks for you guys' friendship and all the mad times. Who's gonna be my lame partners now that I'm alone at home?
The rest of music department...all fond memories will be kept.
My gang back in Melaka who fought the high school with me. We might not be the best in IJC but at least we left our name in vain at school wtf. Haha~ Glad that we all graduated (or soon graduating). I only wished that we all could still stick together like last time. Work hard people... we gotta go somewhere together someday!!!
My church mates especially Paulie, Jack, Jacy and Auntie KAren who contributed lots of things into my thesis. Thanks Auntie KAren's stack of books. They are like my main books support.
Pastor Phang for helping me with my thesis all the way from Taiwan. T_T So terharu.
Pastor Maureen and everyone who helped me from GPMalaysia. Thanks....
Basically thanks to everyone.
Last but not least, a very special friend whom is the main reason why I graduated today needs to be thanked. I had never said this to anyone but today I had to thank her right here coz she's really the main reason I don't end up an useless ah lian today.
I wanna thank Stephanie Chow Siew Fern (is that your name? Haha~) whom said some important words to me which pulled me out of the useless world. If back when I was form 3 you didn't ask me to study hard to prove people wrong about me, I would not have come this far. So I really wanna thank you very very much.
I hope she reads this coz I don't know if she still read blogs. Haha~
Well, that's all the photos.
Gotta go wash my clothes now before kena marah. Hehe~
See you guys in other posts ya.
Tata~