Hello~~~
Went to KL yesterday and was damn effing tired coz mum and I went to three shopping malls. Hahahahahahahhaa~ So as I expected I couldn't come online to blog. Hence, the scheduled post. Hehe~
This was screen captured on Monday night when Buvy and Anu came over to hang out for a bit. Coz I was not allowed to go out too often remember?
We webcammed with Puff and this happened. Hehe~
~*****~
Anyways, I used to remember when I wrote to my penpals (yes, I do have penpals. Coz I'm friendless before remember?) I would add "Thank You Mr. Postman" on the envelop. I don't know if the postman reads it 'tho. Would he smile and feel appreciated if he reads it? Hmmmmmmmmm~
Anyways on Monday I received a package...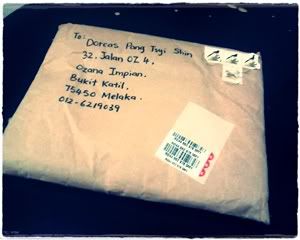 Actually I've been expecting it la... So I was damn excited. Haha~
I seriously love ordering clothes from JB Talks. Ok maybe their quality might be a little bit bad. But its ok coz the clothes that I bought from Sg Wang are mostly like that. But their design rocks coz they are like the ultimate imitation from Vivi Magazine. Its the closest I can get coz I won't wanna fly all the way to Japan right?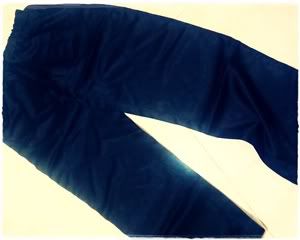 This pants is for Mama
Not actually pants la... Something like a tights. Mama wanted to get one for the longest time. So I saw it online and asked if she wants it. So I bought it for her.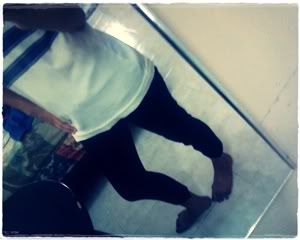 Trying out for her
Please don't laugh at my choice of clothes. Haha~ Coz I lazy wanna go find something that suits the pants. So I just took off my pants and try it on with my home clothes. Lalala~
Its kinda small la... Don't know mama can wear not. If not, I could. ;) Haha~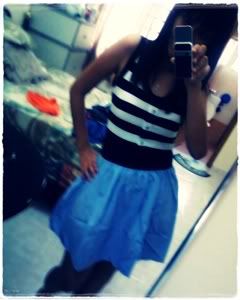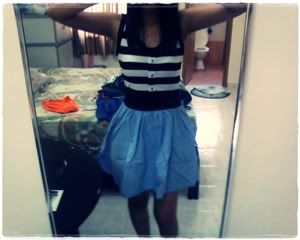 I love it!!!! Its so casual and I could wear it to anywhere. I have too many formal dresses d. Gotta get myself more casual dresses. And I'm crazy about dresses. Gonna buy one dress each month. Then I'll have 12 dresses per year. Wow!!! Hahahahahaha~
Can't wait to go to JB Talks to shop again!!! Maybe I should go there right now. Haha~
K lah... SEe you guys in the next post. Gotta go shopping now.
Tata~