Does anyone watch Jon and Kate plus 8? I've been watching it since the first episode. Erm... not exactly la... I didn't watch one or two season I think.
Anyways, I've been watching the latest episodes and its damn heart-breaking. Especially the episode "The First Ten Years" ending. I teared a bit. Stupid tool Jon. I hope he goes broke soon with all the partying and womanizing.
~*****~
Tuesday mum and I went to KL to return the graduation robe and other stuff. Oh and also get my scroll.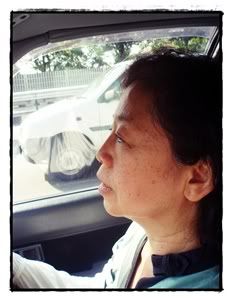 Its mum's first time driving alone to KL so she's pretty nervous. Just look at nervous face. Hehe~
After dealing with uni, we had to settle another stuff which was to me the highlight of the one day trip. We had to go get a graduation present for me. Yay!!!
We went to Sungei Wang first to get my book from Chamber Music. Then we went to Pavillion to have lunch coz we didn't have a proper breakfast.
The puff looked a bit ugly coz I dropped it accidenrally and the topping got smeared. T_T
After searching in four different shopping mall (Pavillion, Lot 10, Sg Wang and Low Yat), we found what I wanted and left for popo's house.
I need snacks in the car for long journeys... Coz its just fun eating in the car. =)
We reached Melaka and fetched daddy at home. We went to town to celebrate a pre-graduation celebration.
We went to Yi Tang, a steamboat owned by my friend, Sook Yee. Fabulous shop I must say.
We ordered two pots for three person. One pot is tom yam and the other one's herbal soup.
At first we thought that we won't be full coz it looked quite little for three people. But gosh we were damn full and had a hard time finishing everything. My dad seldom had difficulty finishing his food ever ok?
~*****~
Had to end like this coz I took medicine and its taking its effect on me.
Yeah... I'm sick.
So i'll be back when I'm better.
See ya all.
Tata~~~