Any other special dates (anniversary, Valentine's, CNY...etc) I would do lots of preparation pre-event.
One of it was getting a pedicure (Couldn't do a manicure coz my nails are too short). Of course not professionally la. No money for that yet. So its all DIY.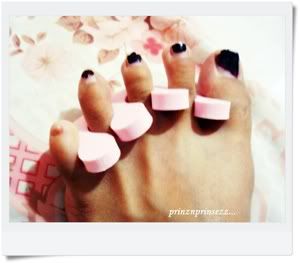 Pre re-painting the nails
Please try this if you ever go to Simply Fish.
We left Simply Fish and searched for a place to walk around but it was raining and we couldn't go anywhere to take photos. T____T So we ended up walking up and down the Jetty and it was so crowded (and windy!) we decided to just hang out in his car.
So paiseh. Sinren told me to wrap his present coz he's not gonna wrap mine. But my present is all in box and everything. Mine like so cincai nie. Sorry arh ney...
I can't even go out with small bags with this wallet.
Anyways, the one with the big arrow is the blue black and the one with the small arrow is a mole. Haha~
It was a simple celebration but the food was good and I think both of us had a great time talking and gossiping. Gosh! I think we're more like best friends than couples. Haha~
Will be posting a lot this week coz there's lots of photos thanks to the long weekends. Working on the Q&A videos and some other videos. So keep yourself ready for lots of fun post this week.
See you guys then. Gotta go mop the floor.
Ciaoz~