Posters from our Youth Fellowship's Merdeka special.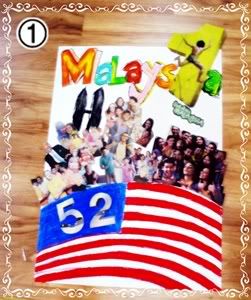 Group 1's poster
They stuck two dead people's photo in it. Yeah WTH right? Alex (one of the group 1's members) said: "
Not being disrespectful k? Malaysia also have dead people right? So have to include them
" Hahahahahahaha~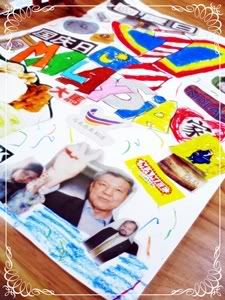 Got Chua Soi Lek summore. Hahahahahahah~
Last Friday for our YF's special fellowship at Han's house we decided to do something patriotic coz it was near Merdeka. So Jacy, Paulie and I came up with the idea of doing patriotic posters. It was fun doing these (childish) poster thingy together.
Will be putting these up at church for people to vote to see who gets the best. Why don't you guys put down your vote here. I'll convey it to my church gang. Please vote for group 2. *wink* Hahahahahahaha~
Short one today. Will try to blog something special tomorrow or the day after.
See you guys soon.
Tata~