So last Sunday, secara impromptu The Ngs decided to have a BBQ to celebrate Mooncake Festival. The original plan was me going over to their house for ping pong, cycling and lantern playing with Bernice. THen it became drink tea under the moonlight with some of the YF members. At last it became a full BBQ event.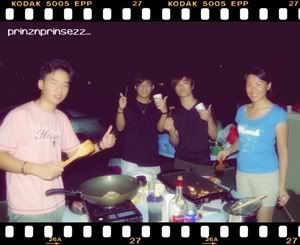 Joseph and Joey was the main cook of the night. And the middle two, Kelvin and Eric was there to kepoh nie.
So kesian her face. Hahahahahahahaha~
So before I end the post there's this video that Han posted on his FB and I think I would like to share it with you guys over here.
Its Han/John who made his debut on tv (I have no idea when was this coz he was freaking fat in this video. HAha~) talking about his goats. So check it out.
I think he had some Indian accent or something. Hahahahahahahahah~
Anyways, if you guys are interesting in buying goats (Whatever for?) or visiting the farm, you can give me a buzz. I could direct you right to him or be your tour guide. Its a nice place to hang out coz I've been there for quite a number of times.
Ok la...
Gotta go.
See you guys soon.
tATA~