Yup sorry to disappoint but I had not make a video on
20 Questions
yet. Coz I'm still emo-ing and because of my emo-ness, I don't feel like talking. So ya if you still wanna ask questions just do it coz my mood might bounce back. There's like 10 more question slots left.
Anyways, I told some people that my schedule changed again this month. And its a lil more hectic than the previous month. T___________T That's coz I have new students and I'm taking up violin lessons again. So ya... Working six days out of seven. Tiring but I guess it'll be worthwhile la.
Here's my timetable...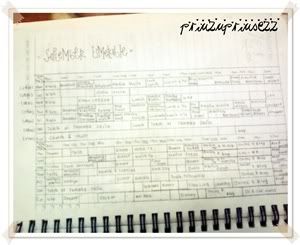 I colored last month's timetable to different tasks (ie: work, piano practices...etc.) But this month I did not. Coz I might need to change it after each week.
Well, as you can see its actually quite full (click to enlarge) but I'm ok with it coz busy-ness comes with money. Plus I could still do other things like onlining, blogging, slacking...etc. So its still alright.
For those who wants to know my schedule (actually only Ann wants to know I think):
Monday: Break
Tuesday: Violin Lesson (11am-12pm), Work at Piano House (7.30-8pm)
Wednesday: Piano Lesson (10.30-11.30am), Work at TBC (4-6pm), Work at Piano House (7.30-8pm)
Thursday: Work at MLH (5-8.15pm)
Friday: Work at home (5-6pm)
Saturday: Work at Jasin Yamaha (9.30am-7pm)-this is the most tiring one, Work at home (8.30-9.15pm)
Sunday: Work at MLH (6-8pm)
So yea... I'm pretty free in the mornings. Totally opposite from other people. So if you saw me online in the morning, its actually pretty common.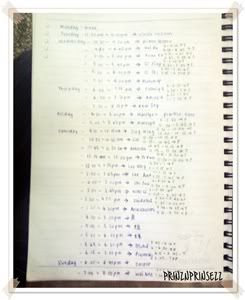 This is the times and names of my students that I also wrote down beside my timetable. Not really important. Just incase I forget who cames next.
~*****~
Last week I bought a packet of ready-made tong yuen (rice dumplings) from Jusco.
I love tong yuen like mad I tell you. Especially ones with red bean (or in chinese we call it 豆沙 dou sha) inside. Yummy yum. I miss SS2's pasar malam. BAck in melaka I hardly go to any pasar malam coz they are quite far from my place and they hardly sell food. Mostly veggies and all that stuff you get from pasar. They took the word "pasar" too literally.
Anyways, I can make tong yuen but its difficult to buy the red bean. So to end my craving for red bean tong yuen, I gotta buy the ready-made ones.
So so yummy. Craving for it now. Gonna cook it later after lunch. =)
~*****~

Last night we went bowling again (I heard they are going again next week). More people came and Paulie finally found MIBC. Haha~ (LAst week he went to MP instead of coming here. Somebody gave him the wrong info)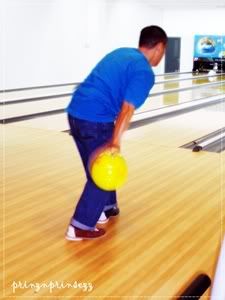 Ah tEck was still doing his taking a dump pose. But I missed it this time. This photo made him look damn pro arh? Haha~
Jeff came and played one round. Not a bad player also. He also had a funny pose pre-throwing out the ball but I didn't get to take it. This is him nearly falling down on the alley. Haha~ That's why... old d don't play so difficult games mah... Play la like golf ker.... Hahahahahahahahhahahaha~
I played with all my heart in hopes of winning but yesterday the challengers were all too geng already. So I was last for both rounds. DAmn sad. T______________T Tak sangka my bro-in-law could play so well arh... Must be practicing sumwhere. And PAulie was like damn pro. So its really not a privillege for me that night.
Only two photos taken coz I was too busy trying to win and ignored my cam.
Oh, I just realised that ball 7 is better than ball 6. But because ball 7 is a lil more heavy. My hands got tired very easily.
Played pool and was bullied by 'em guys. Sigh~ when Jacy is not here, I'm naturally the victim of big bullies. Han told me if I fail to hit one ball into the hole, he will not fetch me home. His exact words was: "打不进,走路回家我跟你讲" (cannot hit in, you walk home I tell you). And the moment I failed he shouted right beside me: "喉!走路回家" (Hor! Walk home!) T______________T Hahahahahahhha~ But it was fun la hanging out with 'em boys.
Might not join them next week. Siao arh? Every week bowl, pocket's hole ma go bigger. See how la... Hehe~
~*****~
I finished reading
For One More Day
in just one day. I was quite surprised with my speed of reading. Its either (1) the book is too thin or (2) I'm too excited to read it all in one day.
Anyways, after reading it, I really wanna watch the movie as well. I mean reading the book itself already felt like a movie coz the author wrote it so well that I could imagine the whole scene in my head. So I scanned thru my Astro guide to see if they're showing it this month on Hallmark. And guess what?
THEY ARE SHOWING IT!!!!!
OMG you have no idea how excited I was. Gonna watch it no matter what.
I think I watched a small part of it coz one part of the book was really familiar to me. As in I think I saw it on TV.
Anyways those who have Astro and had not watched For One More Day please mark this date...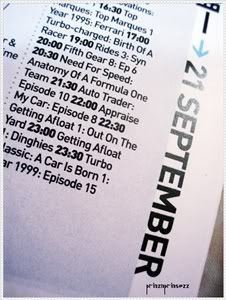 21 Sept 2009 which is next Monday... I can't wait. Can you????
Found this while cleaning up one of my bookshelves...
Its a booklet that I got from a fair or something. Couldn't really remember.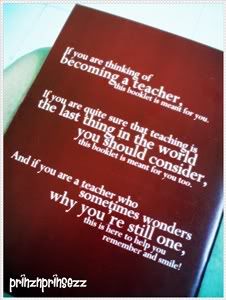 Hmmm~~~~ Interesting enough for me to pick it up and start reading.
Gonna finish it soon coz its just a small booklet la. Will tell you about it once I finish reading it.
Here are some quotings that I got from For One More Day that touched my heart:
When someone is in your heart, they're never truly gone. They can come back to you even at unlikely times
.
(Maybe that is why I always thought of Grandpa Pang)
A big chunk of our history had been buried with my mother. You should never let your past disappear that way
.
I have to say that For One More Day touched my heart like it did for most people but I didn't shed a tear like some people said they did. It was touching but maybe because I did not lose somebody REALLY important and close to me. My grandparents were not really close to me coz they live in JB and me in Melaka. As for Grandpa Wong, he was not around for quite a long time. I lost my friend back in high school but we were not that kinda best friends.
Well, I never did cry by reading a book 'tho. So maybe by watching the movie I would then. Its been a long time since a movie made me cry. Hmmmmm~ the last one I cried to was Bride Wars. Did anyone cry? God its so touching you know?
K la...
Gotta go. See you guys soon.
Bubbye~
p/s: Hopefull the emo-ness will wear off coz an important day is coming. =)