On 21st of Sept, a group my church gang went up to KLIA to send one of our childhood friend to California.
Stayed over at Han's in Joyce's room coz Jacy went home and left me alone. T____T Haha~
Woke up at 4am and nearly couldn't wake up coz I slept at around 2.30am.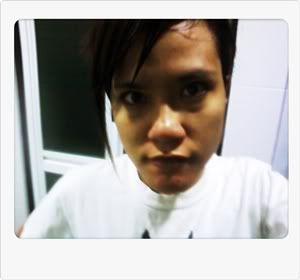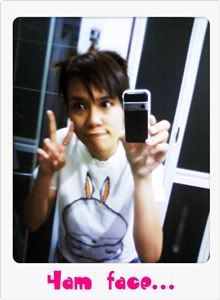 And she's wearing mask coz she's pregnant and we don't want her to get any viruses or germs.
Its a singlet la. Haha~
We've decided to all wear masks and brought one for CY. Haha~ Jacy and I are doing the ninja pose. But our legs got cut off the pic. =(
God I love the multiple shot feature in my phone. Effing hilarious.
Then we went to sing K. All of us, 14 of us went and they gave us a VIP room. With two hugeass tvs and two long sofa that you could roll around. The most exciting thing was we had a stage in our room. Hahahahhahahaahha~ This is where all madness began.
I wanted to blur out everything and put the spotlight on Yee. Manatau Chong Xin was right behind her. Couldn't blur him out. Haha~
Yee's pregnant so she gets tired very easily. The bottom photo was the pic of her falling asleep and Han watching. Jealous!!!!!
And in the top photo you could see Han on our stage.
For those who didn't know, I love Lee Min Ho since I watch Boys Over Flower and he is currently the ambassador for Etude House. So gonna get my makeup from Etude House for the moment.
Ok now for the video that I said that I'm gonna post. MAny people might have seen it la...So here goes...
I'm still recording the second part. It'll take awhile so please wait for it ya CY? We want to make you wait longer and then let it be a full blow and make you cry like a baby. Lalala~
K la... Gotta go now.
See you guys soon.
Tata~