I had my piano lesson before that so I had to wake up at freaking 7.45am to get ready (to shower, makeup, blowdry my hair, dress up...)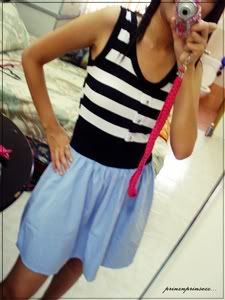 Wore the same dress I wore for the
anniversary celebration
coz its not in the laundry basket yet.
But managed to remove it la...
God! I slouched like Hunchback of Notredame.
ANyways, bought something again...
But never mind la. Shall do research and find out about them brushes.
Anyways, will get my ass into these books as soon as I finish DRama Queen which started to get interesting d. Coz the bitch flew to Ireland. Ok, nobody knows what I'm talking about. HAha~
K la... Gotta go. Student coming in soon.
Ciaoz...