Warning!!! 213 photos and some very lame anigif files ahead. Proceed at your own risk. =p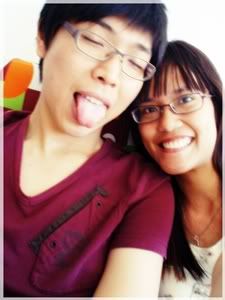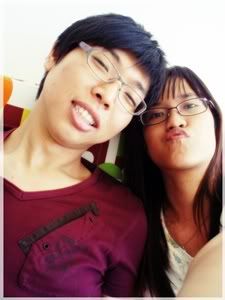 Too long tak jumpa dy... miss him too much to let go of him. Hehe~
The beds are extremely comfortable and the air con was even better than the one I had in my room.
Look at my neck!!! I had Martell last night at Han's and look what it did to me. It was only two small mugs k? T_____T Thank God it was not itchy la...
Don't know why in every picture sure got someone blur out one. Haha~ Too excited punye pasal.
We also played Heart Attack but I pulled out after awhile coz my hand kena pukul until damn pain d.
We had two group photos on our side coz the first one was a bit blur.
The museum was super boring. Wasted time walking all the way up and going to the museum. The hills lagi teruk. Got no fort like they said there is. Liars!!!
Damn long ok? I posed like giler than he asked: "How to use your camera arh?" Then he snapped this. Haha~
We did enter the waters la at last. Played Monkey in the water and had a screaming good time.
Then we went kayaking coz it was the cheapest. Jacy and I wanted to play Banana Boat but it was freaking RM100 for one ride. =(
Jack drew the wings to make it more obvious.
Sorry the quality was bad coz it was taken with my phone and the only source of light was Joseph's car light.
Went back to shower and found out that my 大姨妈 (dai yi ma= big aunty=period) came. Sial man. I didn't even feel anything. And it came early. It was not supposed to come now. I didn't bring any pad or whatsoever. Had to go buy at 7-11. And becoz of that Sinren spoiled Joseph's car plate. Stupid fella said its too dark and bang right into another car. Thank god nothing happened. Just the car's number plate crack nie.
The kambing satay tasted like lamb chop sial. Damn nice. And the nasi lemak you could choose what type you want. Either chicken, beef, clams or sotong. Mine (in the photo above) is sotong.
Wanted to eat seafood but the stall that our home stay owner recommended was not open. Damn sad k? I wanna eat sotong bakar so badly.
Jack was doing the "s" dance that Jacy taught him. But this one done wrongly la. No "S" shape at all. His back was too stiff.
Mine is just a no brainer one la... Haha~
Don't ever try the shrimp stix (as seen on tv) at the bottom. It sucks. No shrimp taste at all.
That was my lovely weekend. I thought it was going to be bad. But it turned out damn nice.
Thanks everyone who made it so nice. Hope that its nice for you too.
Looking forward to our next trip. Probably Cameron or Gopeng. Can't wait can't wait.
K la...
Shall blog again when I have something to blog.
See you guys...
Bubbye...