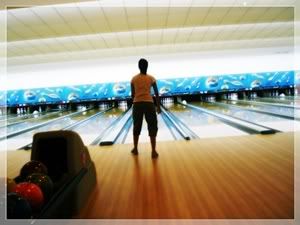 Yesterday after work (yes, I said I'm no more working on Sundays but no T____T More on that in the next post) and dinner, some friends and I went to bowl at MIBC (Melaka International Bowling Center). Gosh! We're so active wei nowadays.
Last week we were at the beach
and this week we're bowling. Next week we'll go to the Night Zoo maybe? Haha~
Thanks Joyce for such and unflattering photo of me. Haha~
Anyways, I had never bowled. Maybe I had but I just couldn't remember. So last night was my first time bowling. I was super super excited.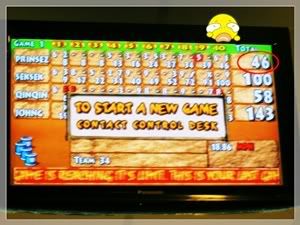 First round Han, Joseph, Joyce and I played. I was last in place. Hahahhahahahahahahahah~ But Han said I was pretty good for a first timer. Coz last time his score didn't even hit 40. Hahahaha~
Later more of them (Jack, Michelle, CY, Teck and Kelvin) came so we splitted into two groups and played separately.
We also played snooker outside the bowling alley. It was also my first time playing snooker. I was so satisfied that day coz I tried everything that I didn't try before. Now I can die in peace. Haha~ WTH.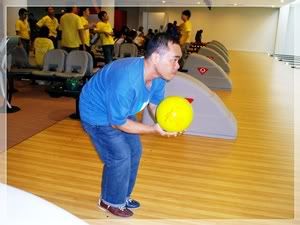 The joke of the night was Teck's starting pose. Damn funny sial. Everything he plays, we'll laugh like gila. Like one round we laughed ten times. Haha~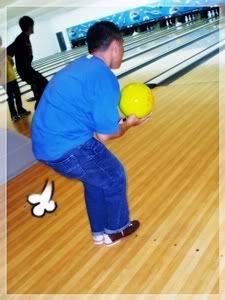 He looked like he's taking a dump. Couldn't find a shit cartoon on photoscape so I put the "kentut" (fart) one. Haha~
After bowling we went for yum cha coz a certain someone has an appetite of a dinosaur. Hehe~ I actually had a good news but I couldn't announce it until that person allows me too. But I'm damn happy. Cannot tahan this feeling of bottling up the joy.
Anyways, Paulie was supposed to come but the blur toad thought we were at Mahkota Parade's bowling alley (the bowling alley at town). Haha~ So he decided to just go home to study.
Weekend ended and today's my break again. =) But I've so many things to do that I feel more tired compared to other days.
Walked to Auntie Hui Sien's house today...biggest accomplishment I must say. Haha~
K la... gotta go eat lunch now.
Feels like doing another Vlog post. Maybe on Thursday la.
See you guys soon.
Tata~