*UPDATED coz I just found out something about New Moon*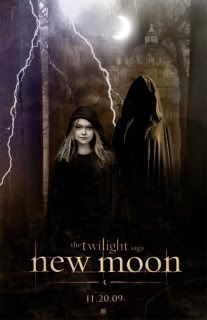 OMG!!!! Dakota Fanning is starring as the small lil Jane in New Moon. So ngam ok? And she looked so effing scary as a vampire. More reasons for me to squat on my seat and can't wait for New Moon!!!!
***
So the day before
we sent CY off
, I was sleeping over at Han's and I brought this (above) combination of clothes to make do of my sleeping clothes coz people laugh at my pyjamas.
The guys saw my pants and started looking at it like it was damn weird. They told me that I bought men boxers. But no, I bought this from WH's ladies department. So its impossible to be men's. I defended and told them that its women boxers. They kept pointing out to me of many reasons why its a men boxers. But I was determined that its women boxers.
The other day I was folding up my laundry, including this pair of boxers above, I realized something that brought horror to my face. I saw it......
IT WAS REALLY A PAIR OF MEN BOXERS.
Hahahahahahahahhahahahahaahah~ I saw MEN written on the label. Hahhahahahahahahahahaha~ How come I didn't realize it all this while? Why I didn't see it when I was about to buy it? Hahahahahahahahahahahahahah~
I will take a picture of the label later. Forgotten earlier. Haha~
Stupid cow. Bought men boxers and didn't know it. But its effing comfortable ler... Hahahahahahaha~
Haha~ Now everyone knows that I wear men boxers. Haha~
Anyways, here's my schedule, dear friends...
Monday- BREAK (no matter I will not give up my break for any money at all. I seriously need this)
Tuesday- Violin Lesson(11am-12pm), Teaching at Piano House(6.15-8pm)
Wednesday- Piano Lesson(10.30-11.30am), Teaching at TBC(4-6pm), Teaching at Piano House(7-8pm), Drama Practice (for the upcoming Christmas celebration at church...yeay, I know its too early but we need a lot of preparation to make it perfect)
Thursday- Teaching at MLH(6-9pm)
Friday- Teaching at home(4.30-5.45pm), Teaching at Piano House(6.15-7.30pm), Youth Fellowship
Saturday- Teaching at Yamaha Jasin(9.30am-6.45pm), Teaching at home(8.30-9.15)
Sunday- Teaching at MLH(6-8pm)
So there. I'm so lifeless I think my friends will disown me soon. Please don't do that. Haha~
Planning to go planetarium next Monday. Anyone interested please comment. Haha~ Digging for comments pulak saya nie. But ya, those interested, please contact me la k? Not the planetarium in KL btws, the one at MITC.
Last thing before I leave, I'm gonna get this...
Its part of an early birthday present for myself and also a reward for working so hard for the past few months. But I had not registered for it yet la... Waiting for 20th October to come.
Gosh!!!! Can't wait to get my hands on it as soon as possible. Gotta get to Maxis to just touch it for a bit.
Posts these days are quite boring. So sorry. Will be up and running once I have something interesting to blog about. Now its all a filler.
Gotta run.
Tata~
p/s: Finished New Moon!!! Moving on to Eclipse now. =)