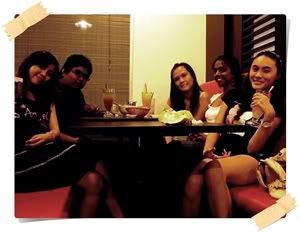 #3 (121009)- Dinner with The Gang at Red Island BB Plaza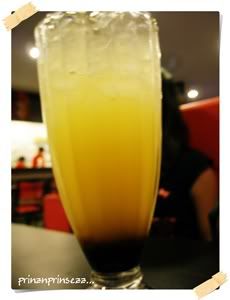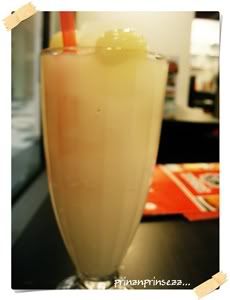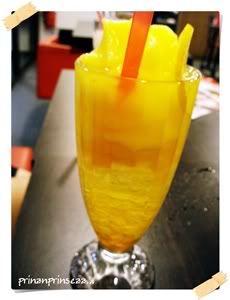 The Drinks we ordered (from top to bottom): Bu's Second Heaven (tasted like sugus), Na's longan, Ann's coffee I think....coz I forgot, Puff's Sunshine (best of all) and my MIA Sprite.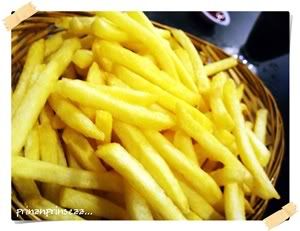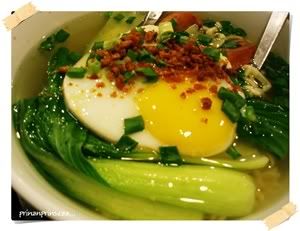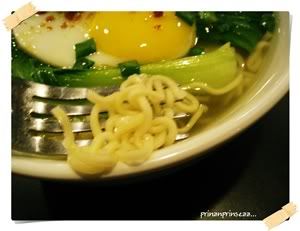 Puff ordered fries for all of us and Springy Noodles which was actually Maggie Mee. Come my house I cook for you free la Puff. Nicer lagi.
I love the mushroom sauce coz it made the lamb chop tasted better. Without the sauce, I think the chop was nothing special.
I passed the camera to Bu to ask her to take all of our photos with her long arms. Manatau I forgot to switch off the self-timer mode. So she held the camera for 10 secs until this pic was taken. Hahahahahahahahahahahahha~ We couldn't stop laughing. That's why all of us looked so happy.
That night ended after a round of laughter and lots of gossips. I think we made the whole cafe so noisy man. Summore scared people who were sitting near us. Hahahahhahaha~
Can't wait for the next gathering. =)