Last Friday was Shan Shan's wedding garden party. Well, its not exactly a wedding. But more like a pre-wedding party.
After a whole rushing from work and stuff, I managed to reach there quite early.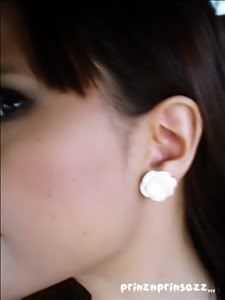 My pretty rose earrings that Esther got me months back. I love them lots!!!! Thanks so much Esther dear. *muaks*
This was taken on the way to work. LOL~ There was a slight jam so I had time to camwhore.
And of course this photo was edited. But only the eye colour. I did the makeup myself and I'm really satisfied with it. I looked so gorgeous. *tak malu mode*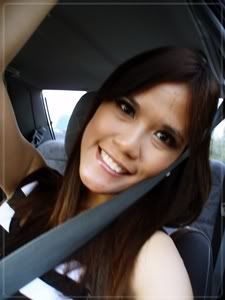 Non edited and yes I'm wearing that dress again for the Nth time. You can't blame me. I love it.
The bride and the groom
The bride's giving a speech and later the groom showed us how he proposed but I did not take a pic of it or a video of it because I was sitting at the middle section. Difficult to come out. So yea, not much photos because of my disadvantage.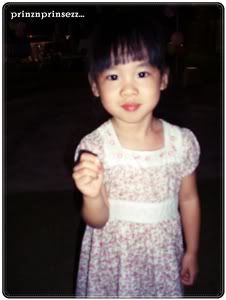 Bernice-chan who's confused about what to call me most of the time. She calls me Dorcas jie jie but when people ask who am I she tells them I'm Auntie. -_- Haha~ But she's so cute, you can't get mad at her at all.
She's trying to do a peace sign but obviously still couldn't reminds me of her
last year
. She looked so much different compared to last year. More like a baby.
Before leaving, we decided to take group photo with bride and the groom. So I handled my camera to Chong Sing and here are the outcome...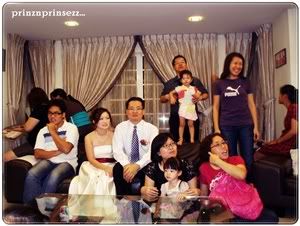 Haha~ All not ready and I'm not in the picture. But the funniest thing is...look at Jeff. In case you have no idea who....I blew up the pic of him for you guys...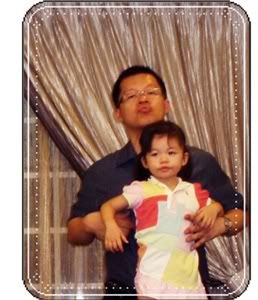 Cutenye... Haahahhahahahahahahaha~ Totally like father like daughter. Both of them had the same expression summore.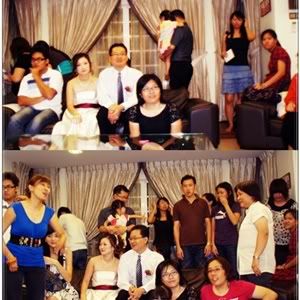 More not ready photos....I'm going to kill Chong Sing!!!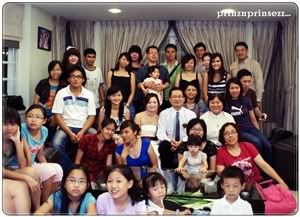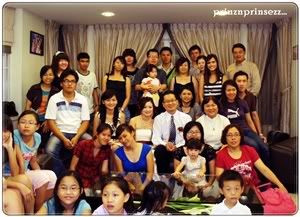 MAnage to have two group photos but Chong Sing took photos of them kids watching tv at the front. Apa nie.... Teruk betul cameraman nie. Hahahahhahahahaha~ Don't know how to aim properly ker?
So the night ended and I went home early coz I was having a stomachache and also coz I had to work the next day.
Simple but quite nice wedding there. I would love a garden wedding party but apparently grass are not my best friend. I would still prefer a beach wedding.
K la... Gotta go cook lunch.
Loving the leather hairband I'm wearing now. Too bad you guys can't see. =P
See you guys soon.
Tata~