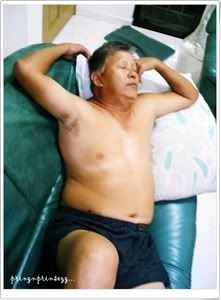 #13- 221009
My dad's sleeping pose. Hahahhahahahahahahahahah~
He usually starts to sleep from 9pm and the pose changes ofter. LOL
NExt time I'll record a video of him snoring. LOL.
Work, work, work...
Wore my striped "jailbird" jacket to work coz the rooms are so freaking cold. The jacket didn't really help. =s
There's something pretty funny happening at work that day. Its something the student did. Please ask me in person so that I can show you the action. Freaking hilarious.
I was angry at that moment but now its all joke for me.
~*****~
On last Saturday the gang, Sinren and myself went to Jonker Street to get some stuff for our party on this coming Saturday.
I love Jonker Street. Have I told anyone this? Its the best place to shop for really interesting stuff in a very cheap price in Melaka.
The one at Patisfrance is still the best!!!
The sushi was mediocre but it filled my craving for Japanese food. =) Still am craving actually. Hehe~
Hang out with The Gang at Geographer for some drinks and to chat.
Hello! I'm not really a fast drinker ok? Look at Deepa and Sim. Hahahahhhahahahaha~
Anyways, I love cocktails. But I'm a lousy drinker. I get high just by drinking a bit (or not drinking at all. LOL). Once a drank one small glass of Martell and ended up walking as though I'm floating in the air. Hahahahahhaha~ Even swinging side to side when I was trying to stand still.
Didn't realize that my hair has grown so long d. I always thought that they were only shoulder length. Now its touching my bra strap level. =D Hopefully it will reach the bottom of my bra soon.
The nicest one is the bottom one where everyone was not ready. Haha~
Couldn't get two same ones coz there were no alike ones. Good also la. Special la kan?
I know people with long face should grow their hair too long. But I just want to try for once to see how do I look if I had long hair till my waist. Girls dreamt of looking like rapunzel right?
K la... That was my weekend.
Can't wait for this weekend for our Halloween potluck party.
Check in for the next update.
Tata~
p/s: My baby's arriving on Friday. Are you guys excited to know about it?!? I'm super excited!!!