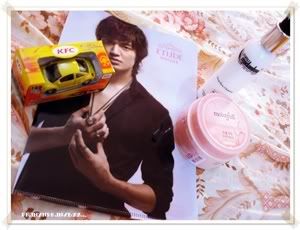 #4 (131009)- Went shopping and here are my loots
My facial wash finished for quite a long time and for the time before I bought this I was using samples Chooi Yin gave me last time. So kesian. Haha~
Anyways, I talked about this facial wash in
6 Things video
. They re-packaged the thing. I prefer this packaging coz it pumps out the right amount everytime. The old package was quite wasteful coz you might pour out too much at a go.
Ate at KFC and had to get the miniature Volkswagon Beetle. So damn cute!!!
Chose yellow coz this is the colour that I'm gonna get when I am rich enough to buy the lifesize version.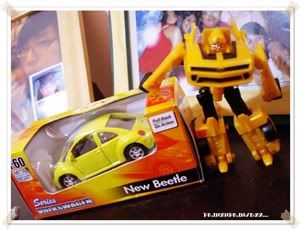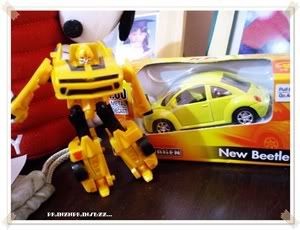 Bumblebee making friends with the Volkswagon. Maybe even flirting. He doesn't know the she doesn't transform like him. Darling... get her a the Sparks ler...
Too much Transformers up my head. Haha~
Bought a mask coz I just realized that my mask had already expired...in 2008. Hahahahahahaha~ Thank you Eevon for doing the
post on Spring Cleaning
. I wouldn't have check on this things if I didn't read her post.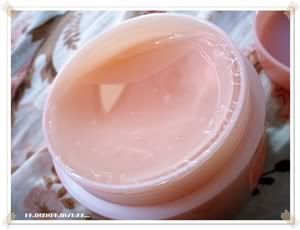 Its a massage mask 3 in 1. It could be used as a peeling mask, normal put on the face mask and also sleeping mask.
Those who don't know what is those three masks, please ask me. I think most people knows.
Bought the mask in Etude House and got another Lee Min Ho folder for free. Hehe~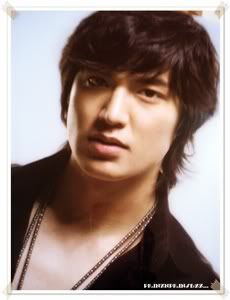 Now I have two Lee Min Ho folders. =) One cute version (got this
last month when I went to KL
) and the other cool version. Love love love.
~*****~
Rest of Project 365...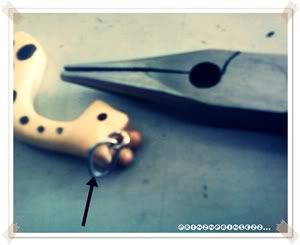 #5 (141009)- Broke my giraffe necklace's ring metal accidentally at dad's hardware store. Thought that I could never wear it again until I saw some metal wire lying around at dad's store.
Found a plier and started bending and voila! giraffe necklace could be worn again. =)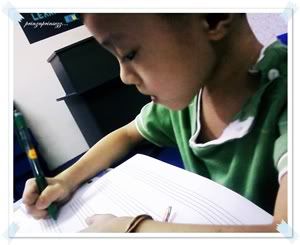 Its damn difficult to teach four year olds. I have two of them and its killing me.
Their attention span is very short so I have to like change an activity every 5 mins. But its fun at the same time. Coz they are so cute and say the darnest thing. Haha~
Schedule got more tight coz more students came in at Piano House. Tiring but I love it coz more cash comes in. The faster I can save for Taiwan!!!
Yea, I'm planning on going to Taiwan next year. But its not like I must go there la... Coz most of the time I'm determined things don't work out. So if I could save up to the right amount I would go. If not, then next time la.
K la... gotta go.
Tata~