Hullo~ I know I have not been updating for a long time. 1) I was very very sick. 2) I had nothing to blog about. 3) I'm busy practicing dances and acting.
I fell sick on Sunday and couldn't get out of bed for the whole day. But by midnight I couldn't sleep coz I slept too much in the afternoon. LOL. My whole body was weak and had no strength to do anything at all. I only regain full strength by Wednesday. Poor me.
I think it was because I over-worked and also the weather. I scheduled a week of rest on the last week of November (which is next week) but manatau belum reach I d fall sick. :s
Apart from that, dance practices had started. Its damn fun. I had not danced (choreographed dances) for a very long time (since form 6 I think). So getting involved in this type of dance was like bringing back all my high school memories. Summore the people dancing are all damn sampat. Haha~ No matter how tired also worth it. =)
Ok now for a re-cap of what happened from the week before using the Project 365 way.
#34- 121109 My whale bath sponge. Super cute right???
Siew Han said it looked like tissues in a bundle. And Ann said nothing like a whale because of the mouth. Don't care what they said about it. I just think its damn cute.
~*****~
So Friday we went to Sampan to celebrate Ann's birthday. But it was a super lousy place. It used to face the sea and was an awesome place to have seafood. Now its just a lame place with lots of mosquitoes. And the sea is gone. SUper sad. I was so damn disappointed ok?
And the lamest thing was...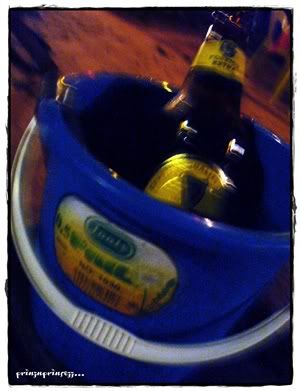 Siew Han asked for a Stout and the waiter brought one that was not chilled. And when Siew Han asked him to bring a cold one. He said there's no chilled beer. WTFish???? Tell me how is it possible not to have chilled beers? Who drinks hot beers?
So Siew Han asked him to bring a bucket and put ice and water in it for him. He brought the above bucket with ice but no water. Zzz~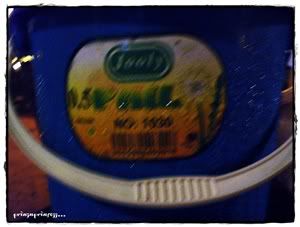 The bucket is around RM5. My dad's shop has it. Hahahahahahahahah~
The food was not that great as well. Almost terrible. Look at the lamb chop that I had. So little lamb. Its like swimming in the gravy. Tsk tsk tsk~~~~
Never going back to Sampan ever. Unless they change to another management.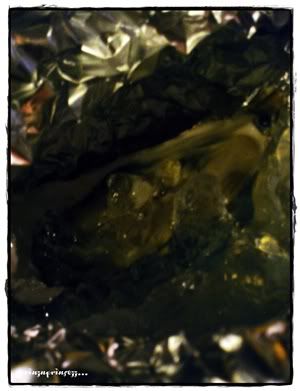 The only nice food were the oysters Siew Han bought from Simply Fish. Of course la. Simply Fish mah... Hehe~
Then we went over to Buvy's house to teman her. Her stepdad passed away and they were having prayers. So we went over to kept her company.
~*****~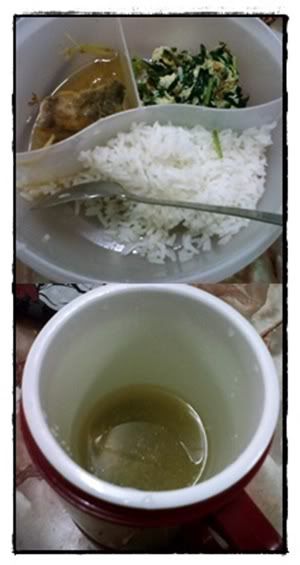 #36- 141109 Mum cooked this for me to bring to Jasin for lunch. Yummy~ Thanks mummy.
There's fish and kuchai eggs. The bottom one is si chuan vege soup.
~******~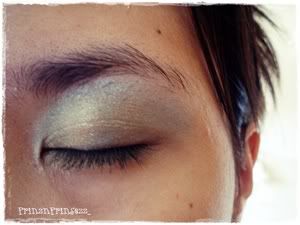 #37- 161109 (Skipped one day =p) Trying to find the right look for SAturday's wedding. Decided on this. Its a mixture of aqua blue, lime green, yellow and brown. I personally think it looked very garden-ish and sunny. Suitable for my godma's garden wedding right?
~*****~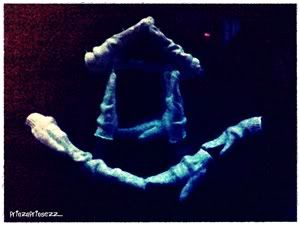 #38- 171109 This is one of the Christmas Eve's celebration's programme.
We're supposed to put on gloves and create patterns like houses, heart shapes...etc. And it could only be seen clearly with the help of UV lights. Its kinda interesting if you see the whole show. Will record the performance on the day itself k? Then you will know what I'm talking about.
Jack drove me home and this set of Nightmare before Christmas bobble toys caught my eyes. Wanted to make this 365 photo but I think the performance practice one was more interesting.
~*****~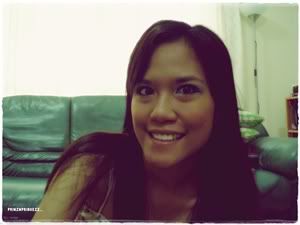 #39- 191109 (skipped one day again =p) Recorded a video coz was tagged by
Eevon
. Will edit it and upload it soon.
OK so that was all.
That's a glimpse of what I did the whole week la. Nothing special.
Next week is the BREAK!!!!! Yay!!!!
Can't wait for my shopping trip to KL.
K la...
Gotta go la...
Ciaoz~