OMGoodness I took like two days just to upload the photos. Then only I realized that 200+ photos are really dificult to blog about. Haha~
Seriously it was that a lot. Of course it didn't come from only my camera but as well as from Ann's and Trina's. Mine alone is about 100+ and that was after a cut from 200+ that I took. LOL. Imagine if all passed. I would have 300+ photos to post.
So here you go. Hope you guys don't fall asleep reading. LOL
We started the night with our makans. Coz all of us were starving.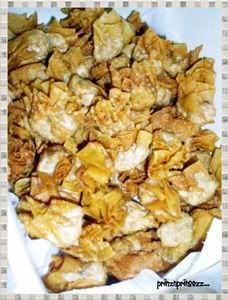 Wantan brought by TRina. There were two boxes...read BOXES, of wantan she brought. One was with chicken filling and the other was pork. I preferred the pork one 'tho. I have no idea why.
That's all the food we had. I didn't prepare any food coz they said I already host the thing. So I only made drinks which suck. Sorry people. I really can't make drinks. LOL.
Then Chubby Bunny challenge begun. For those who didn't know, the idea of this challenge is to stuff marshmallow into ur mouth and see how many you could stuff before you hurl. Basically I knew I would lose coz I can put nothing in my mouth too long.
This is call "looking at the picture and tell story" (看图讲故事). LOL
If there is a best dressed for that night, I think NAna won hands down. Right???? Super scary can? Her makeup was scary and the whole dress thingy. Bravo Na =)
As you can see I cut down on captioning coz its seriously very tiring.
We decided to head outside eventhough it was raining. Sigh~ the party was supposed to be outdoors actually. But it was raining.
I call this the firebird. Hahahahahhahahaha~
Took a video of us introducing ourselves... Check it out...
After that we head to my room to take photos summore...hahaha~ Tak habis-habis.
They said it looked like a bapok. Haha~ STupid photo.
This was done with fish eye effect. Damn nice huh?
That's me after scaring the car beside us... inside the mask was very stuffy. I felt like I was dying in it.
-_- Super lame. Haha~
Ann and Trina had Raspberry Esprit and Sprite respectively.
The tequila sunrise tasted more like juice. Not that nice. But it saved me from beer rash.
It was a simple but awesome party. I think I was quite under-dressed beside Nana, Ann and Buvy. Haha~ Next year I promise I'm gonna go all out.
Tata~