Another post on preparation for the Halloween party. When I get all the photos from everyone, I'll post it up. BTWs, it had been awesome!!!
Before going to the main point, here's some Project 365's photos...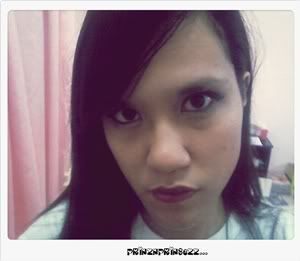 #18- 271009 Wanted to create an evil vampire look but failed. Coz not evil enough. Should have seen Ann's vampire look at the party.
*thumbs up*
Got this last year on Halloween week. Coz my cousin's son was down and he was making noise to get this from Jonkers. So my cousin bought it for his son and also for me. Yay!!!! =)
Was just as good. But was too spicy. Nearly died of swollen lips and burning tongue and throat from this. LOL
~*******~
So Friday I went to MP to get my BB but didn't get it. Apparently KL office haven't send it down. Super angry la. Then today I went to get it but felt so cheated. Sigh~ But got it already la... was satisfied but angry with Maxis for their lame plans. One year will pass and I will definitely switch to something else d la...
Never mind la... Can use for the next party or something.
After so recommendation from the sales assistant, I bought this Japanese Cherry Blossom one. Super nice!!!
I thought it was dirt at first kept wiping it with wet cloth. Haha~
Ok la... Next post should be about the potluck.
Check in soon =)