Hello hello...have been quite busy lately and finally had time to come online to blog.
Before that, I've done my Christmas shopping. Yayness!!!! Happy lappy~~~~
So on Saturday I went to work like usual but seven students didn't come that day so I had a lot of time to...
...yes, I camwhored. Wahahahahahahahahaha~
Thank God my boss didn't see me. Shy nie if he saw.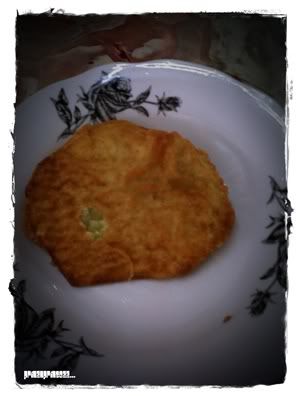 #64- 121209 My boss' wife made fried sweet potato...yummiez~ Thanks so much
Ok so on that day Sinren came back and we went to celebrate my birthday.
Went to Sakura House again coz its so nice but damn cheap. Here are all the food we had...
Unagi handroll
Super fresh unagi (eel)...and the seaweed was super crispy...me like~
My favourite!!!
No tempura sauce d so they gave us mayo...but still very nice. Super crispy!!!
My Udon with Sweet Tofu
Mum said it was nice but Sinren said very tiring eating this coz had to take out the fish's bone one by one.
But this one is so damn funny...look at Sinren. Wakakakakakakakakak~
Was having a terrible mood that day. I don't think you can see it in the photos.
We went to Jonker to get my birthday present but didn't get it. Then the mood even worst. I started to sob on the way back. Sinren saw it and slowed down the car. He drove in first gear all the way from Jonker. He comforted me all the way and held my hand. *shy* But it was one of the sweetest thing he did and I appreciated it a lot. I felt really terrible lately (as in mood) and I really need the warmth of his hand to comfort me. Thanks baby...
Well, that's all the photos. Next week I'll be even more busy coz its Christmas week but don't worry coz after I'll have lots of photos to post. So do check in often.
K la...gotta go sleep coz I'm having headache right now. Sinren's also having headache few kilometres away =) So ngam. Haha~
K la...bubbye~