Another re-cap.
No new event/photos coz I'm just plain boring.
#52- 301109 Actually I do have an event recently which is this but I haven't collected all the photos so haven't blog yet.
Anyways, it was Siew Han's birthday celebration....fun night. =)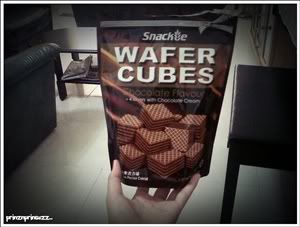 #53- 011209 A snack mama bought.
At first I thought it will taste like shit. Like those Apollo wafer that I hate. But its not. So damn nice!!! Try it if you see it anywhere.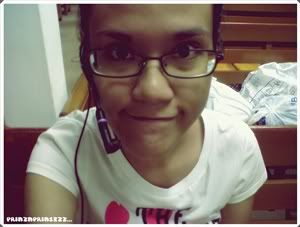 #54- 021209 Drama practice
After about a month of practice, rehearsal is coming. So had to practice with the whole rundown and mic.
Don't really like that mic coz it makes my voice go weird.
#55-031209 Did this very pretty purple look with my
new eyeshadow I bought last week
. Can't really see with the bad lighting in my room.
Will do some Christmas/New Year parties look's tutorial soon coz was so into partying mood.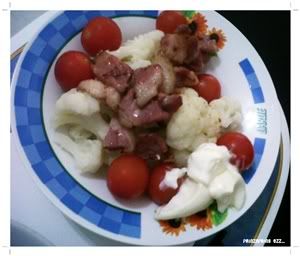 #56- 041109 My lunch: Cauliflower, Vine Tomatoes (written on the box), bacons and some mayo.
Supposed to be healthy but with the fatty bacon and mayo, its not so healthy d.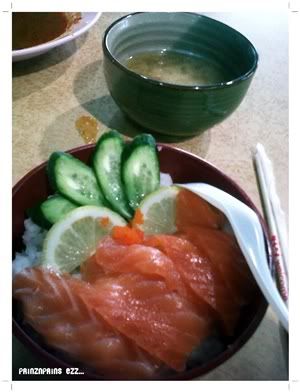 On the same night, went to Pandan Malim's food court to have dinner (totally forgot the food court's name). They had this new Japanese food stall. So I tried the Salmon Don but it tasted blah.
The Miso soup was good 'tho. Asked for second helping summore. Haha~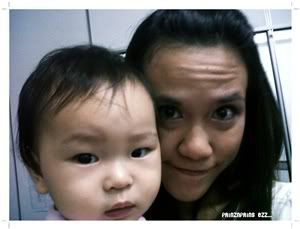 Remember
Jia En
? Carried her again but she didn't wanna smile anymore. Sad~~~~
She kept looking at me 'tho. So its quite difficult to take photos with her.
#57- 051209 Had chapped/cracked lips and it hurt. T_T It bleed a bit I think. But thanks to Vaseline, it was healed in the morning.
Simmy sent me this photo of a blown up Stitch at Sunway Pyramid. OMG!!!! So damn cute I wanna die. Can somebody steal it and give it to me. I wanna put on my porch. Hahahahahahah~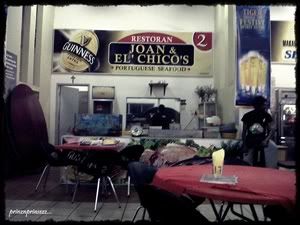 #58- 061209 Went to Portuguese Settlement for dinner with the family to celebrate three things: my mum and dad's wedding anniversary, mum's birthday and my birthday.
Not much picture taken coz I left my camera coz we went right after I finish work.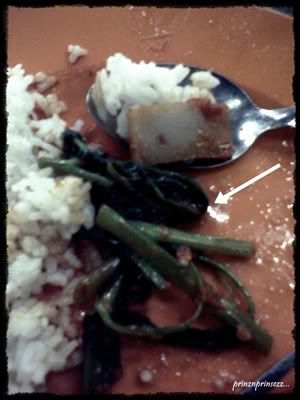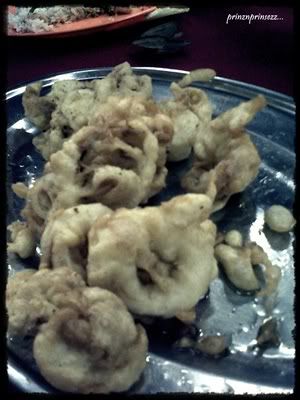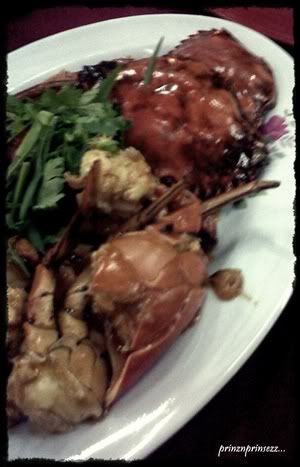 We had (from top to bottom) kangkung belacan, squid fritters, butter garlic lala (mussels) and sweet sour crabs.
After dinner (and very full I must say) we walked around and I just realised they built a jetty at Portuguese Settlement. Nice but too dark. Quite scary actually.
Went home and mum started to decorate our Christmas tree. Yay!!! Now the house is so Christmassy!!!
Took out the Santa's cap out and started camwhoring
Oops~ over edited the cheeks. HAha~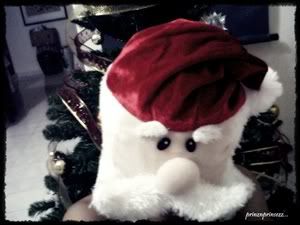 Its a cap with Santa's face on it. Damn cute right? I think I bought it last year or two years ago. Can't find the post which I talked about this.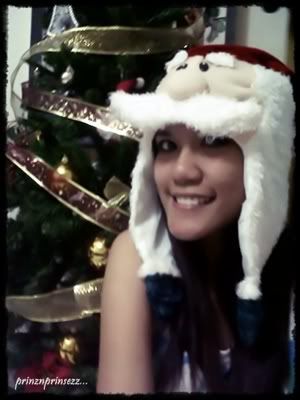 Christmas mood!!!!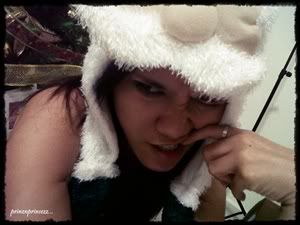 I think my tree is too small to camwhore under la... wanna get a big ass Christmas tree next time for my own house.
K la...See you guys in the next post. Probably next Monday if I don't have anything interesting to blog about.
Ciaoz~