To start the year 2010, here's some pics of the overdue event.
Gonna caption only. Not much to say.
Just am happy that my darling had finally baptized =)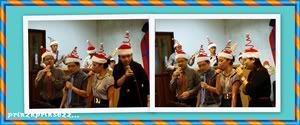 Praise and worship team wearing bobbly santa caps...cute =)
Mad day and super tiring. No wonder I was sick after that. Haha~
Well, no mood to blog d coz its too long past and the photos that I've been waiting for had not been posted. Zzz~
So that's all about 2009.
Time to create memories for 2010!!!
See you guys soon.
Bubbye~