Hello~
Today I'm gonna post something pre-CNY coz the CNY are not done yet. Super tiring can? 300+ photos you know. Sampat betul.
So this was on Monday (before CNY) mum and dad wanted to get stuff stocked up for cny so we went to this old store at Bachang to get some cny goodies.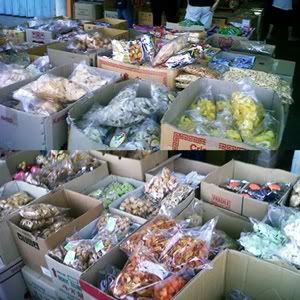 Whole lot of stuff for wholesale
There's like various crackers, nuts, sweets etc. Mum and dad was like in frenzy to choose what to buy. Me on the other hand was not so excited because I don't really like to eat these things. CNY is all about CNY cookies right? Plus I was having a tummy ache at that time. They were so busy they didn't care whether their daughter was dying -_-.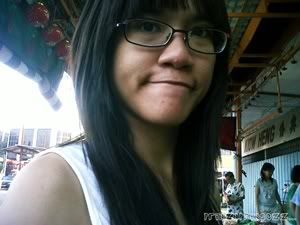 Mum and dad buying some herbs from a chinese sinsei (doctor). That's like weird. How can I doctor be selling herbs? Its like buying rosemary from a doctor. -_-
Then we went to Aeon =) coz mum wanna get some stuff from the supermarket. But before that we went for dinner.
Saw their ad on the newspaper so decided to give it a try. It is a steamboat restaurant which serve hot pot individually. Unlike those traditional ones where everyone shares one pot.
No Dad and I photos coz he was sitting opposite from me. Too bad. Haha~
It was really really spicy lor. As much as I like tom yam soup, this is too spicy for my liking.
Overall, the whole meal was so so only. Didn't really like it. I think Yi Tang was so much better.
After dinner, we went shopping. Mum and dad went to the supermarket while I walked around Aeon. So of course without parental supervision I bought some stuff. Wait for it in February Buys. LOL~
My virgin tasting. Super excited. =)
-_-
I think JCo donuts are much much much better compared to Big Apple. Don't know why but I love it more.
Planning to try their yogurt next time I'm there. Looks really yummy.
Well, that's the end of this post.
Everyone had started working d today. So I'm back to my normal routine. Effing sien. The next time I'm having a break is like June. T-T So damn long summore. How to survive you tell me????
Sigh~~~
Ok la. Gotta go finish my reviews and send it in before my bosses kill me. I haven't been handing in any for the pass two weeks. =p
So see you guys real soon k?
Bubbye~