Hello~
Yeap its the boring outdated Project 365 again. Wait for updates at the back.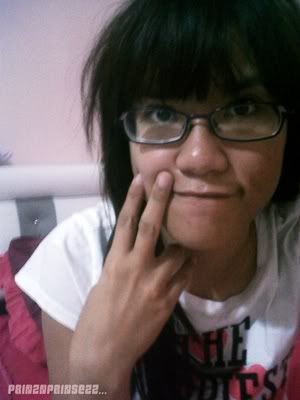 #134- 210210 Its me with specs and my fabulous bangs which I miss like mad.
#136- 230210 My purple nails which I added flower nail stickers and some beads on top. My bf calls this the yam ice cream with sprinkles.
#137- 240210 Some of the exercise which I've started doing. It didn't last long 'tho. I've stopped after one week of every day exercising. Hahaha~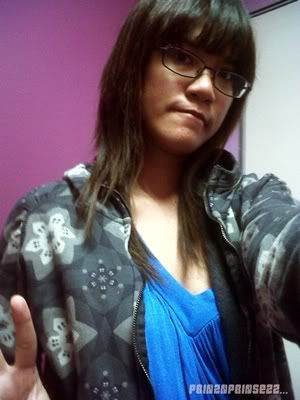 #138- 250210 One of the days when I had to work and the student was late. So I camwhored. Muahahahahaha~
~****~
So on 26 February, we went out with our ex-school teacher, Mr Dennis for a dinner and some hang out.
Mr. Dennis is the coolest teacher in the whole IJC (that we know of la). We were the closest to him and even after graduating for so many years we still hang out. The reason why we still visit school is because of him.
After dinner and walking across the crazy congested Jonker Street we decided to take some photos.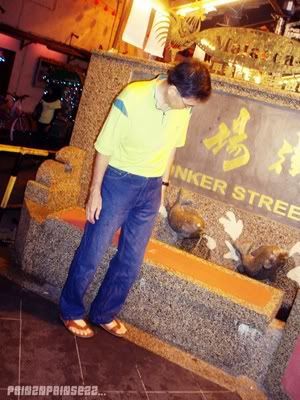 "Hello" He's probably saying hi to the fishes in the fountain thingy at the back. HAha~
He's lame like that. Trust me.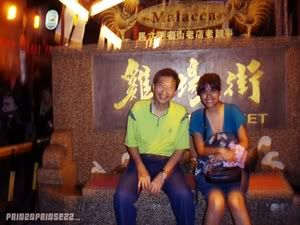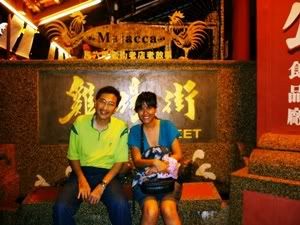 Sorry I looked like crap coz I was having the monthly thingy. I basically was not in the mood to dress or look nice that day.
How can I leave the house looking like that? Super horrifying lor.
~*****~
Time for updates.
1) Another change in the Taiwan trip dates. I'm back to going to Taiwan in December. Its a loooooooooooooooong story. Long story short: September is when the typhoon is terrible and its supposed to be quite warm in September. I wanna experience coldness not go there for another hot weather ok? So I'm gonna recruit new people for the trip coz apparently my friend is making a lot of fuss about going to December. I'm gonna give her a take it or leave it option. She wanna come, then come. Or else I'm gonna go on my own. Don't understand what she meant by there's nothing to do in the Winter. I've read so many blogs about people going to Taiwan during winter and had the time of their life. So its impossible there's nothing to do.
2) I seriously cannot stand my stupid boss anymore. Suka-suka she add in new students without going thru with me. You think I sit around and do nothing is it? She had no idea how pack my schedule is right now and she kept putting on more and more students in at whatever time that is fine with her. The worst was Sunday. I had to work from 5pm- 9.45pm. WTF?!?!?!?! I mean its not that long but I had been awake since 7am in the morning. There's non-stop stuff to be done until 9.45pm (with church and this effing job). Why kind of life is this? This Thursday I'm planning to tell her I'm gonna quit soon. She better go find another replacement teacher. I don't care how FHL (fuck her life) she's gonna be. Coz if I care, I'm gonna FML.
3) Having a mad headache right now. I just wanna lie down the whole day but I have a review to hand in today. So will have to finish up and sleep. Don't even feel like cooking lunch today. So damn painful.
4) I love my job at Pei Daw. Its so easy and the kids are not as difficult to control as I thought they would be. If they are too out of control, all I had to do is switch of their computer screen. Like super automatic, tears will flow and everything is under my hands. Muahahahahhaha~ The only bad thing is I hate waking up at 7am!!!
Well, I think that's all.
There's so much photos to post still. And the Project 365 is still very backdated. LOL~ Gotta post up all asap.
K la. Gotta go rest coz the pain is killing me. Maybe I'll finish up the review when I get up.
bubbye~