Hello people,
I've been slacking from blogging for quite awhile huh? Its coz I have nothing to blog about apart from Project 365 and maybe rant about work. I don't wanna bore you guys so decided not to blog.
Last week I was also busy trying to get 0 fare tickets from Air Asia which was a massive fail coz I didn't get any. But the good news is...if you had been following me on twitter, you might already know. Look at the side bar and you might get a hint.
Another thing is about this blog. By next week, this blog's url will be changed from http://www.prinznprinsezz.blogspot.com/ to http://dookiecookie.blogspot.com/. Prinznprinsezz was started coz Sinren and I wanted to start blogging together but now that he's too busy with work and blogging is not something he has passion for so I'll be the only one blogging. Well, its not that he blogged a lot before this. -_- So I've decided to change the url to something that is more me. So remember to change your link to http://dookiecookie.blogspot.com/ next week ya.
Ok enough of announcements and now for photos from Mother's Day. Sorry I'm always posting up things late. Hehe~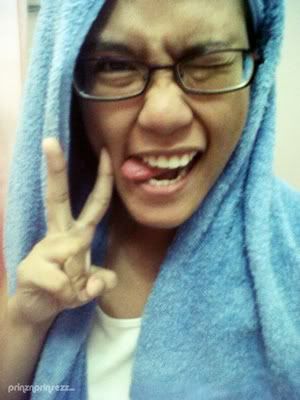 After work, I quickly showered and got ready before my mum starts screaming at my face. I'm usually the slowest to get ready coz I need to makeup and coordinate my clothes and curl my fringe and blah blah blah...yea, so I'm the slowest. Haha~
So I got ready and mum got ready but dad was not home yet. He was out playing golf -_-. Then he came back super late. Both mum and I lost our excitement bcoz of that. Well, its not like something new in the family. He always spoils our excitement. Sigh~
We finally decided to go to Aeon's Papa John Pizza.
Stupid fringe had an ugly gap that night. Spoiled so many pics. Stupid betul!!!
I still think shakey's pizza was the best. But why all the branches in Melaka closed down? Damn sad.
I don't know what's with me. I ordered so much beef that night. Haha~
Well, that was how I celebrated mother's day.
Will blog whenever I have something interesting k?
See you guys round.
Bubbye~