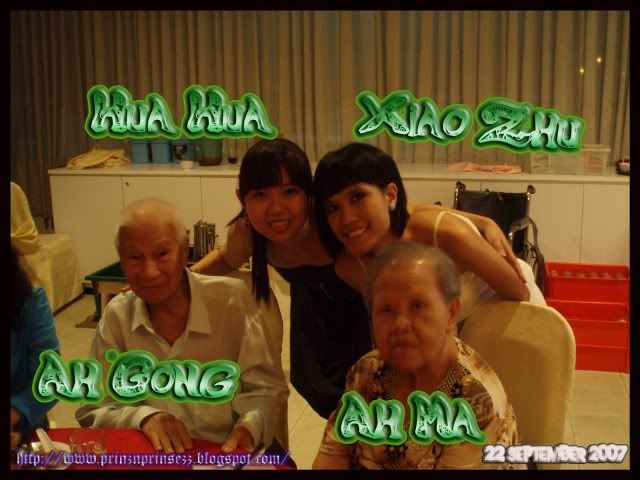 Today marks the 5th year my Grandpa Pang had left our family.
The last time he had an one-on-one conversation with me he told me that he will not be able to attend my wedding or be there when my child is born. True enough this year he will not be there to witness his youngest granddaughter getting married. But up in heaven I know he (and Ah Mah) will be looking down at SR and I with his kind smile, blessing our wedding.
It is still very difficult for me to look at his photos after all these years. Even now typing a post about him is difficult for me. Every time I thought of him I tear up.
I do not have many memories of doing things or going anywhere with him. But my fondest memories of him were the times we sat beside each other. He would flash his kindest smile and asking me random questions. I on the other hand would answer him in my very broken Teochew. Such simple memory but it is very special to me coz that's when I felt I was closest to Ah Gong
Ah Gong,
This is the fifth year that you've left all of us. I miss you a lot. I know you are at a very happy place right now with Ah Mah. I hope you guys are not arguing as much as you did here. LOL~ I've graduated and found a job. I'm sorry I was not fast enough to earn money to give you guys angpow for CNY. I've finally found my darling and we will be getting married soon. We will not be able to jing cha to you but we hope you will bless us and our marriage. We will honor you by continuing to participate in church and serve the Lord as you had taught me to. We will teach our children the ways of the Lord and the Chinese tradition just as you want our family to. Papa and mama are very healthy and everything is well with the family. Have fun up there. We will meet again one day. Miss you lots. Love you~
p/s: I just realized that our wedding date, 11 May is just a day after his birthday...if he was still alive it would be his 90th birthday. This makes our wedding so much more meaningful. =)